What is Affilorama Premium?
Affilorama Premium is basically an online training program that gives you complete access to well-detailed and advanced affiliate marketing training. It also includes some powerful pro-level marketing tools to enhance your marketing skills.
Basically; Affilorama Premium is the advanced level of the free Affilorama training program. It covers all you need to know about affiliate marketing, and with full insights on how to become a super affiliate marketer.
Tips for Newbie's: understanding the Basics of Affilorama is essential if you want to get the best out of this product!
[the_ad id="120″]
Who is Affilorama Premium For?
Affilorama Premium is for anyone who is already into affiliate marketing; anyone with some knowledge of affiliate marketing that wants to take their skills to the next level.
Please bear in mind; Affilorama Premium is not a step-by-step training course for complete newbies.
For Newbie: please read this Affiliate Marketing Step-by-Step guide: Online Affiliate Marketing Basics.
[the_ad id="144″]
What are the features you get with Affilorama Premium?
Affilorama Premium provides you with information on how advanced affiliate marketing works, and with further insights that will inspire you with new affiliate marketing ideas. In reality; it does provide you with a lot of features!
Here are some of the features you'll get as Affilorama Premium member:
You'll get access to Affilotools,
You'll get access to Affilorama monthly webinars, and also access their interviews with leading affiliate marketers and other web millionaires,
Access to quality PLR articles,
You'll receive Monthly web-magazine that covers comprehensive details on related affiliate marketing topics,
Access to web-hosting services!

Okay; let's talk more about Affilorama Premium web-hosting services! Basically, what are the benefits included?
Here is a list of what you'll get with the Affilorama Premium web hosting services: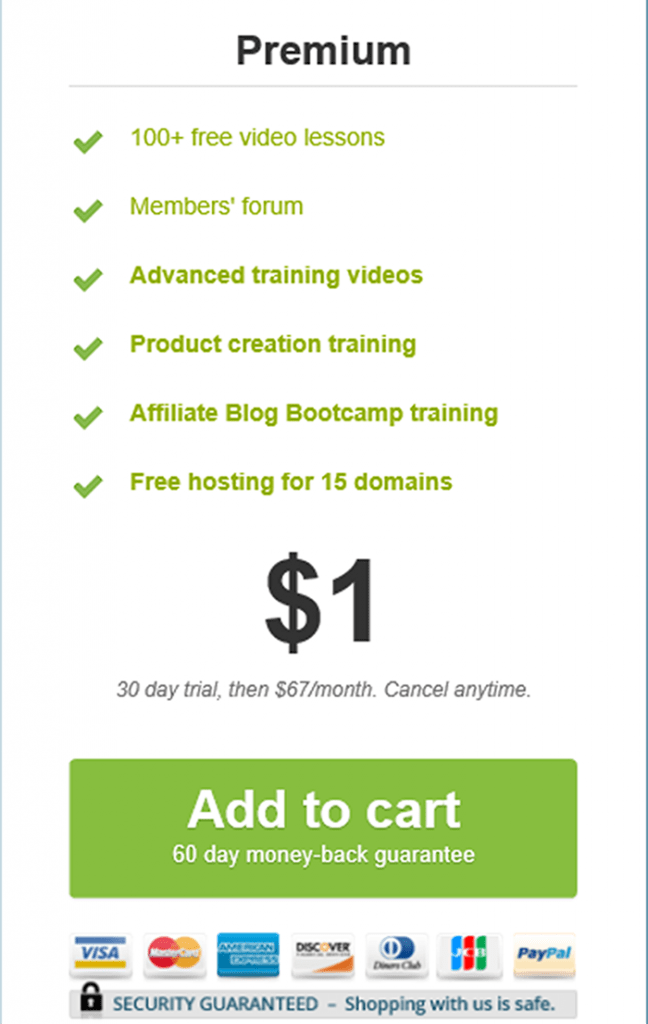 Access to host 15 different domains,
Create Sub-Domains,
Create email addresses for your domains,
You'll get 2-Gigabyte (GB) of Disk Space,
You'll get 75- Gigabyte (GB) Monthly Traffic Bandwidth,
You'll be able to create 10-MySQL Databases
You'll be able to create 10 FTP Accounts
You'll get Support for PHP4 and PHP5
You'll be able to create link redirects for your affiliate links,
Access to over 500 quality website templates,
You'll be able to optimise your website for speed
Access to thousands of stock images,
You'll be able to install websites like WordPress with one-click,
Access to dedicated and friendly support,
You'll get access to support tutorials – like how to move existing sites from other service provider to Affilorama Premium hosting services,
And more other related additions!
How is Affilorama Premium charged?
Affilorama Premium is charged on a monthly subscription basis.
How much does Affilorama Premium cost?
Affilorama Premium is $1 for the first month and $67 for the subsequent months.
Basically, you're charged $67 on monthly basis (after the first month that will only cost you $1 for 30-days).
[the_ad id="111″]
Conclusion
You really don't have any excuse for not trying this product out yourself; it will only cost you $1 for 30-days; and which is more than enough time for you to decide if it's for you or not!
The truth is; what you don't try, you don't understand! All you need is available at your fingertip!
Although, making money on the internet does come at a cost, but it all boils down to how ready you are!
My opinion: Affilorama Premium is a complete LEGIT product, but it also depends on your financial condition; if you can afford it – then go for it, but if it's out of your budget – then try out some alternative products out there!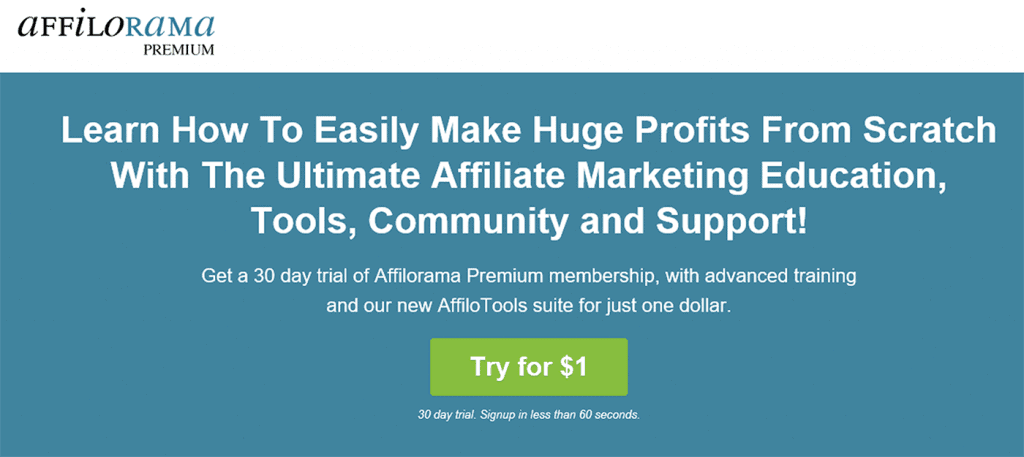 Before I leave; I sincerely wish you SUCCESS in your Affiliate Marketing journey!
Before you leave; please kindly share your thoughts in the comments below.
Thanks for reading!