Affiliate marketing is a promising online business opportunity. In order to be successful, you need to commit to learning and following the industry best practices that are outlined in the resources provided to you from the affiliate marketing course you choose to take.
Affiliate marketing courses like Project 24 by Income School are undoubtedly one of the best affiliate marketing training courses on the internet, although they are not the only ones, and in my opinion, they are not the best in the industry.
The big question is this; Is Project 24 Right For You?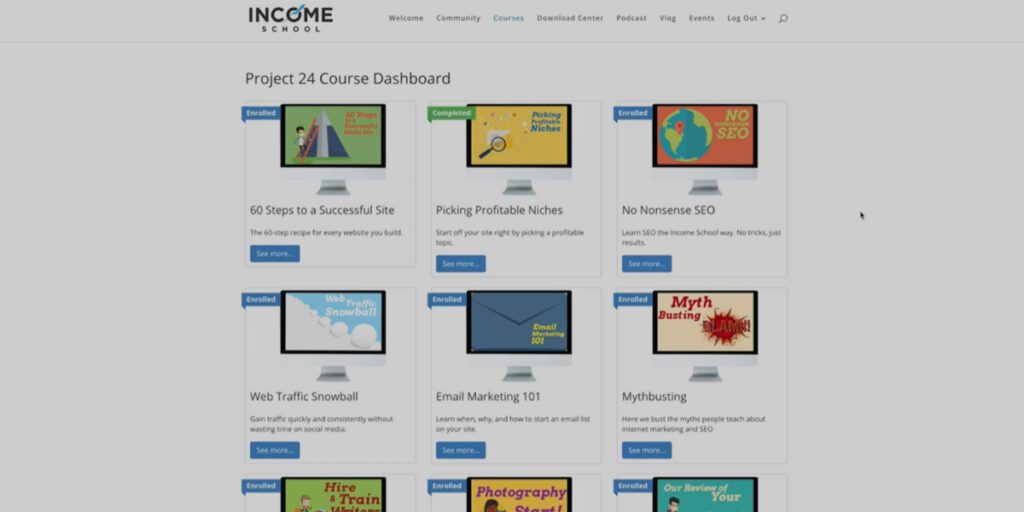 To better understand project 24, you have to sit back and introspect at what you intend to achieve with this program. It's the big question to ask yourself, as it would determine if Project 24 is right for you and if it fits your reasons for taking an affiliate marketing course.
For example, are you after building your own online business, or want to earn money online, or replace your full-time income, or are just interested in blogging; the list goes on.
Most people see testimonials online or on social media about how some random guy just made a couple of thousands online from affiliate commission as an affiliate marketer, and the sudden interest kicks in.
Well, this isn't how it works, and it takes the right effort to get to that point. So if you are a beginner who wants to learn how to make money online by putting in the handwork, then Project 24 is right for you.
The Project 24 by Income School training program provides you with the skills you need to earn passive income from affiliate marketing. It simply takes you from a complete newbie to an experienced blogger and a marketer.
In this Income School Project 24 review, I will be discussing all you need to know about this online training, including the pros and cons of the training program. Let's start by understanding what Project 24 is all about.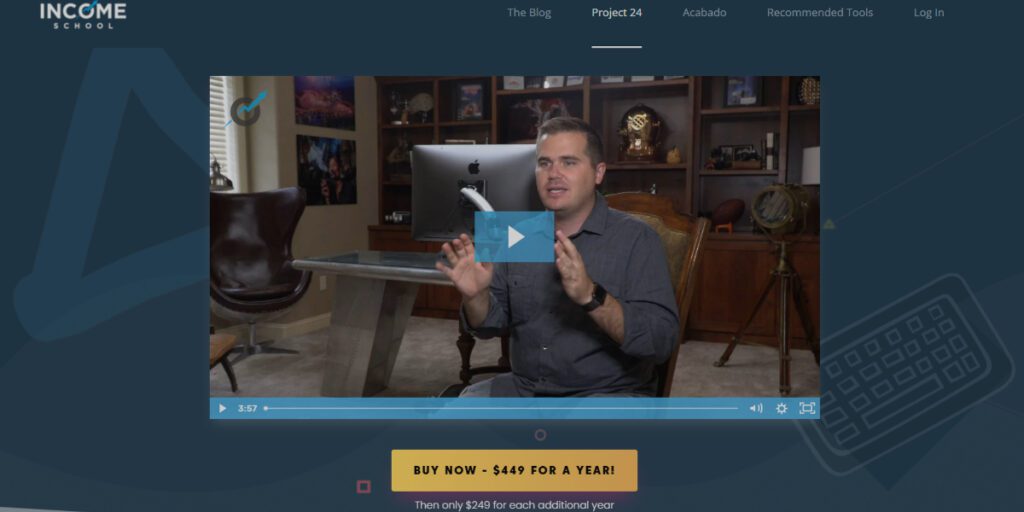 What is Project 24?
Project 24 is an online affiliate marketing training course that the Income School created. The course aims at helping you to gather the required knowledge you would need to know how to make money online through building passive income niche sites. 
The name was derived from the program's duration. It is designed to help students who actively and passionately undertake the course learn how to generate a passive income that will replace their full-time income within 24 months.
With testimonies from students who have actually put in the work and have made passive income, Project 24 is a great course to buy for learning affiliate marketing. However, before you jump into compulsion, let's start with a quick Income School review to have some insight into their platform.
Who Created Income School's Project 24?
The Income School is an online platform that Ricky Kesler and Jim Harmer founded. 
They started the Income School in 2015 and have since developed their business model to teach people how to build a niche site and establish themselves in making passive income through blogging.
Before starting School Project 24, the duo has been consistent on YouTube, where they release videos on how to scale your income, and it didn't come as a surprise to me when they decided to start Project 24.
Over time, they have worked together in growing their brand together as they built a consistent business. Now, Jim Harmer is no longer a part of the Income School brand and has since then started a personal business venture known as Backfire.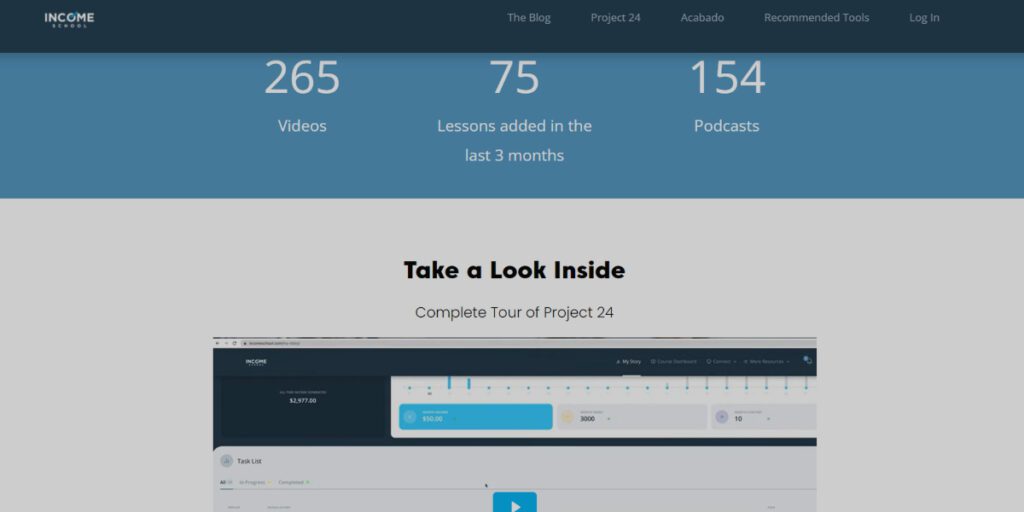 How Does Income School's Project 24 Work?
Income School's s Project 24 is a complete online training course requiring students to follow the course outline to get the best out of their teaching.
As a project 24 member, you are taught from the basics of affiliate marketing to advanced strategies.
To better understand, I will be discussing what you should expect if you decide to buy the Income School Project 24's course.
What to expect in the Income School's Project 24 Course? The Course Modules
As a project 24 member, you are required to put in the necessary work because that is the only way you can get good results from taking the training.
This course is one of the affiliate marketing courses with real-life success stories of bloggers who are now earning their full-time income from blogging.
However, if you want to make success stories happen for you, you need to put in the time and the required hard work.
Here are the course modules you should expect from the Project 24 Income School's training;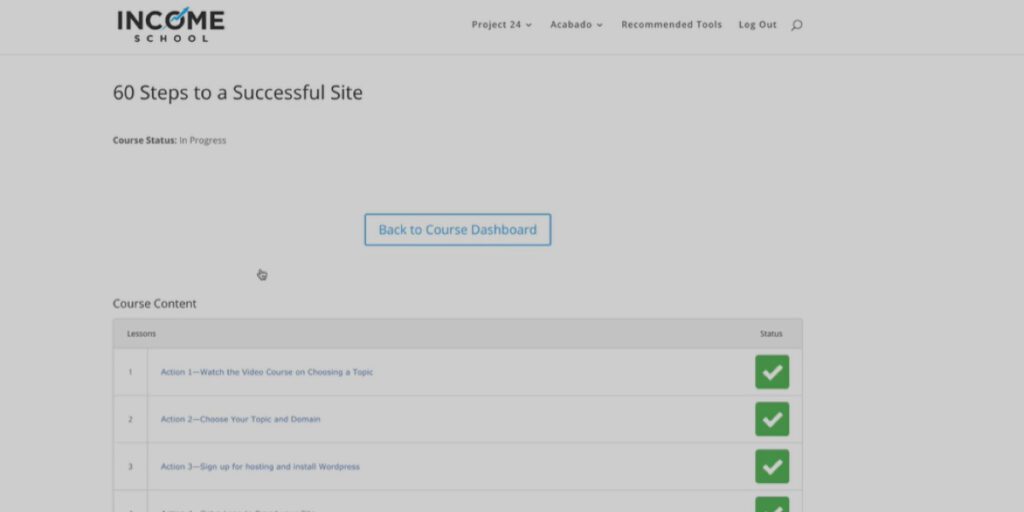 60 Steps to a Successful Website Module
When you register for the program, this is the first course you'd be introduced to, as it supports you in learning how to build a successful niche site in 60 steps. It is advisable to follow the steps highlighted in this section even if you have prior website design or marketing knowledge. Below are some of the topics that were treated in this module;
Keyword research,
Creating optimised posts,
Choosing a preferred niche,
Everything SEO,
How to build a website with WordPress.
Search Analysis Module
For the search analysis module, you would be taught tips on finding articles and blog posts that would be useful in setting up your website. Then, they introduce topics such as keyword selection, generating ideas, and developing a plan for your brand. When you finish this module, you are expected to be ready to undertake the next phase.
Choosing Profitable Niches Module
If you want to profit in your pursuit of making money as a blogger and an online marketer, then the niche you focus on would determine your success.
This is why I like this module, as it shows students how to fish out the best of the best. Since profit and ROI are the primary focus of creating a niche site, then you need to look out for the niche that would bring you the most income.
As part of the course package, you would also receive a spreadsheet with over 300 niches ranking on their profitability from top to bottom. I feel you should stick to the top choices, as they are likely to have a high chance of success.
How To Get Traffic Module
We all know that traffic plays a major role in how our website grows, and that is the reason you need to pay attention to this module. This module provides tips and tricks that would help you get traffic to your website and, in turn, boost your ROI. But bear in mind that you must aim at writing great content with every of your blog post.
Email Marketing 101 Module
This module will teach you how to build an email list that would take your great content to your audience. However, when you don't properly plan and build your email list, it could be disastrous. This module will put you through the basics of email marketing and how to create a functional email listing.
Myth Busting Module
This is all about the Keyword Golden Ratio (KGR). This module is to help you build on ideas that best work for you and test them on their efficiency. Students would also get to understand Keyword Golden Ratio (KGR) in terms of internet marketing to boost their ROI better.
How to find and train Writers Module
Your website needs content to help increase its chances of thriving, and well-written content is key. This is why you might need to secure the services of writers who would need to be trained to help in delivering tailored content. This module shows you the know-how on how to find and train writers that can write great content.
Website Reviews Module
In this module, your website will be reviewed, and you will be provided with feedback. Basically, you'll get feedback through a review of your site. This is highly essential because it can determine the success and failure of your website.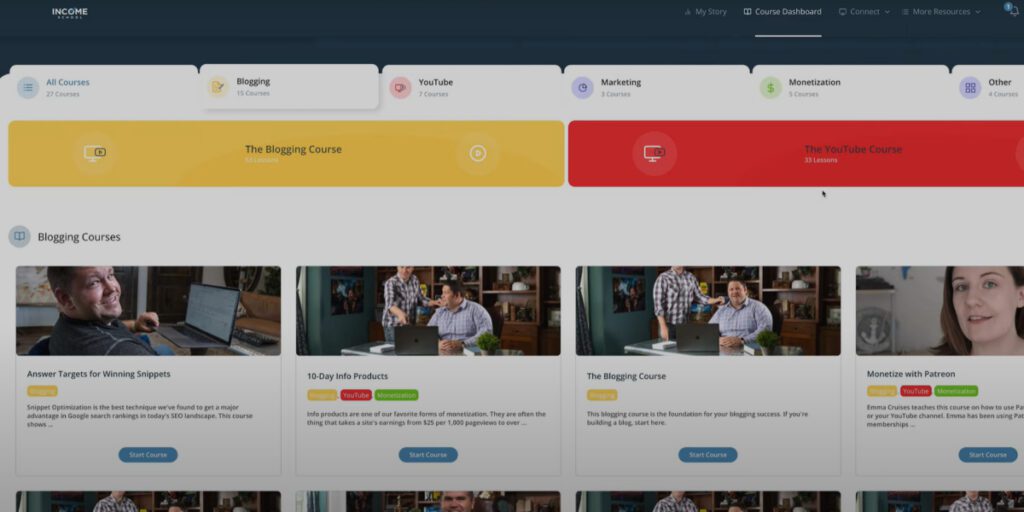 How to improve your writing skills and speed Module
In this module, you'll learn some ways to improve and speed up your writing.
You will get more insight on topics from the module.
You will learn how to find a good blog post topic and then write the article based on that topic.
You will be shown a simple blog post structure that will help you write faster.
Also, there are chances that you might have a tough time writing great content, which could be a problem. With this module, they would provide you with enough information that will help your writing skills.
They would also offer you a template that would play a vital role in your learning curve.
Monetising your website with advertisement Module
Most people rush into the idea of monetising their website without propped planning and find out that it almost always fails.
This is because there are steps required to set this in motion. There is no point in monetising a website without any organic traffic. This module shows you the hang of putting it all in motion and how and when to monetise your site.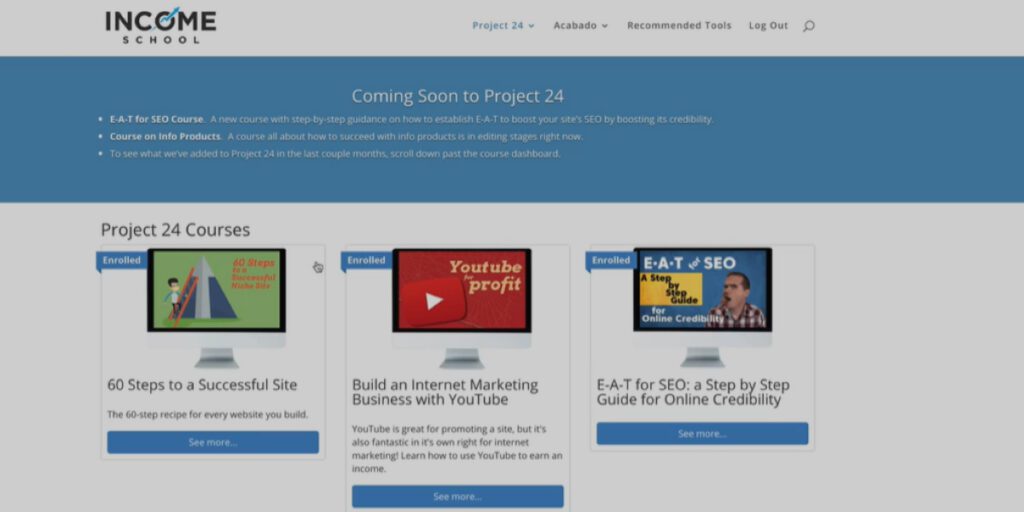 Brand New Module: How to use Pinterest to drive traffic to your blog
Since you are still new to running a website, you might want to minimise your running cost. However, getting organic traffic is one way to boost your website visibility. This is where Pinterest comes into play.
Driving quality organic traffic from Pinterest is free, unlike other traffic sources like Facebook, which will encourage you to pay for traffic through advertising. Pinterest traffic will help you in avoiding advertising fees.
In this module, you will learn Pinterest best practices and how to utilise the tips to get more visitors to your website.
Project 24- Course Features
The Income School's Project 24 is a well-detailed program that provides all that's required for you to thrive, especially in building a niche website that generates passive income. With a closed community that also helps you grow by meeting others and sharing ideas, their course is well prepared for your growth.
So what are the features you get to enjoy when you sign up for this program? There are several features to enjoy, and we will touch on some of them here;
A Structured Course Outline
As previously mentioned, Project 24 offers students a solid program that provides students with many lessons, all with distinct information to get across. The Projet 24 course is well structured and outlined.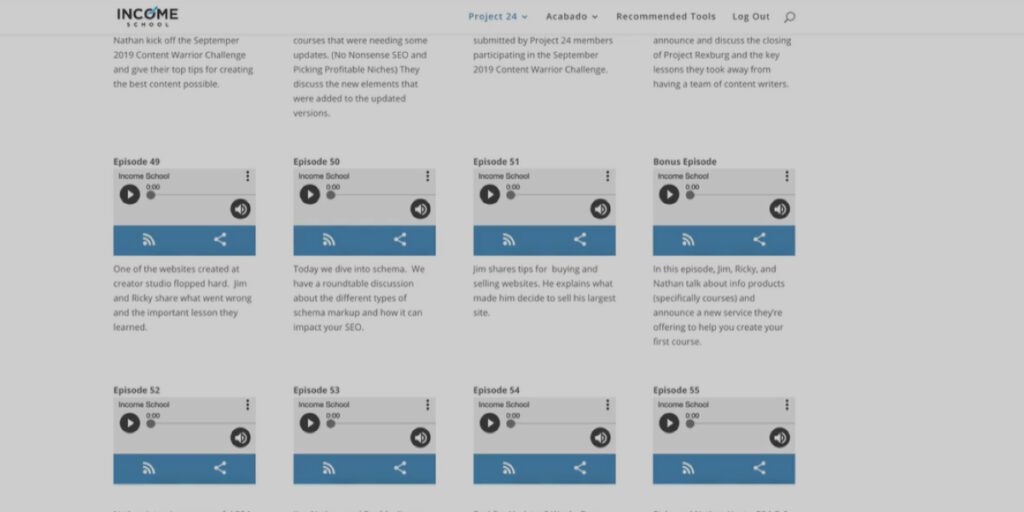 Project 24 Podcast
As a student, every tool required to help in your learning would be helpful, so listening to those who have much more experience is a value-added service.
In their podcast, the host talks about ways to improve your SEO, marketing techniques to increase your ROI, more about monetisation, and so much more. These topics are helpful for you and can only be accessed by a member of the Income School.
Community
A great way to grow and learn more is by engaging community members on how they tried and learned from their mistakes. The fact that this forum is continually growing ensures that there is always someone out there to share your thoughts and ideas to further boost your knowledge about Affiliate marketing and niche websites.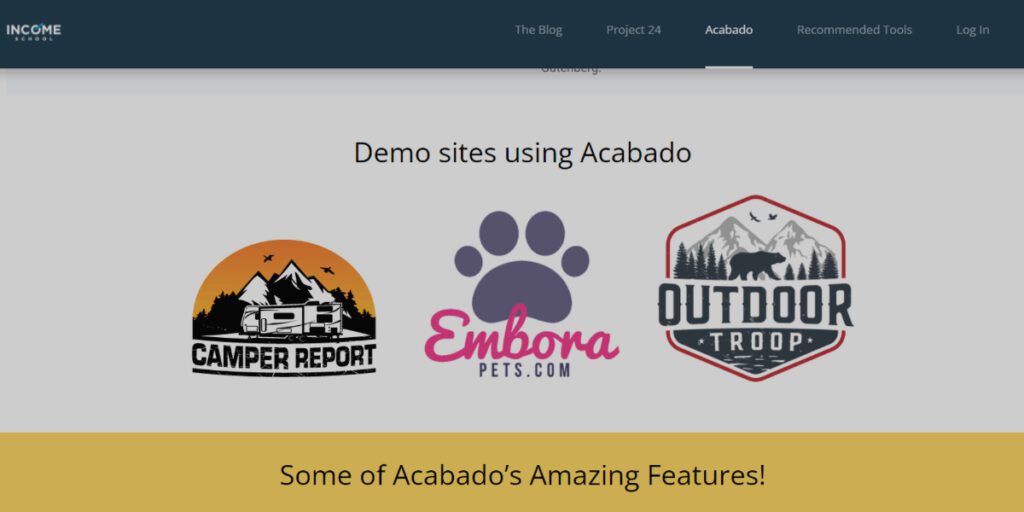 The Acabado Theme
Acabado WordPress Theme is a theme that Ricky and Jim created; they are the faces behind Income School. As they taught others about affiliate niche site building, they wanted to design a lightweight theme for their Project 24 members to start using right away without the usual burdens that arise from problematic themes.
How Much Does The Project 24 Affiliate Marketing Course Cost?
The Income School's Project 24 course has a price tag of $449 for the first year and $249 per year for the subsequent years. The $249 is a fixed price for as long as you remain a Project 24 Income School member.
That means that after the program, you can still pay the yearly fee and get access to all of the products and content that Income School is offering.
However, the downside is that you will lose access to the course when you stop paying the yearly fees. This is one of the reasons I still prefer courses like the Affiliate Lab by Matt Diggity over Project 24.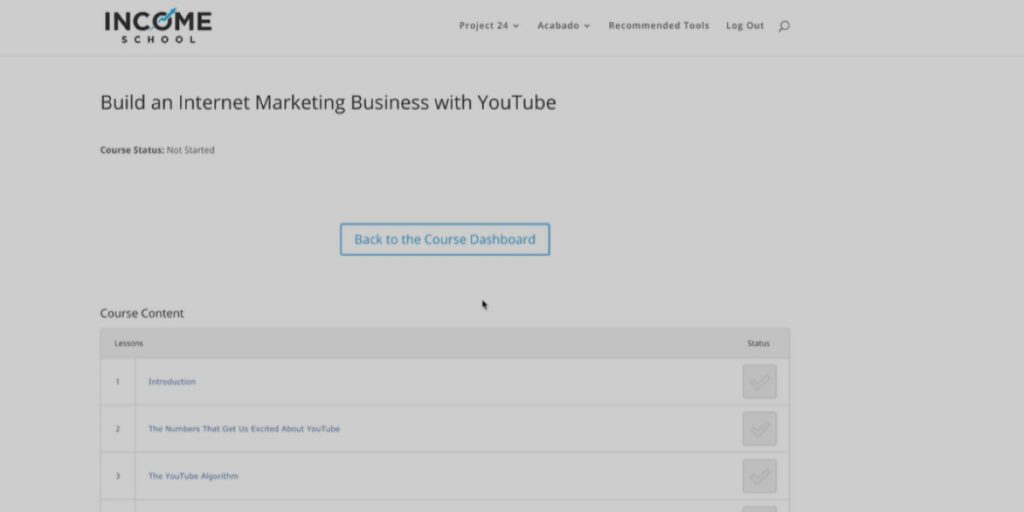 Pros
Weekly content update,
Big community,
Provides a realistic expectation,
Easy step by step program,
No hidden Upsell.
Cons
No lifetime membership,
They don't teach you anything about link building,
English is the only tutoring language,
Although they do provide a refund policy, you do not get any refund when you pay for the course.
How Does Income School's Project 24 Help You Make Money
The secret to Income School's Project 24 helping you earn money online relies on how well you are prepared to put in the effort.
However, they help you make money by teaching you tips on creating passive income through building profitable niche websites. With a whole course on this, you should be able to learn and earn if you follow the steps as provided.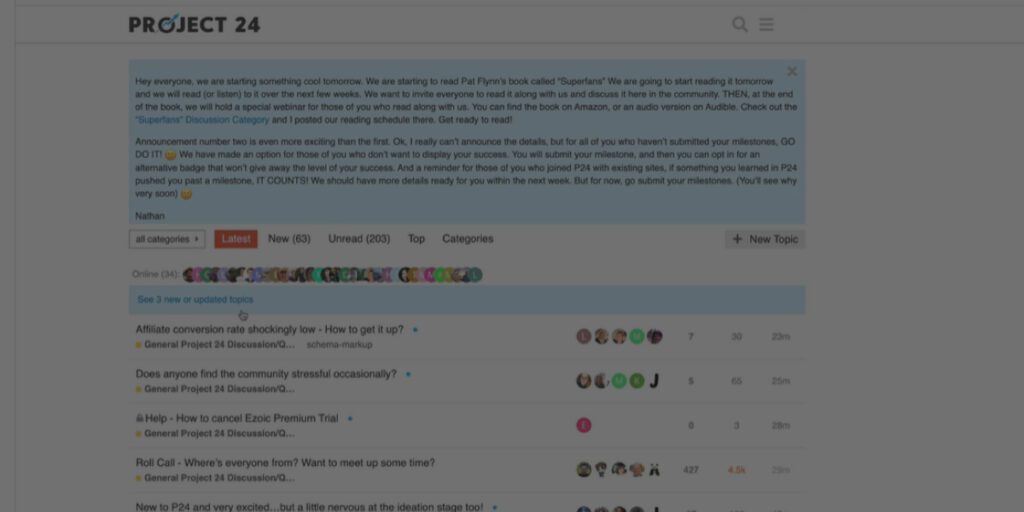 Is Income School's Project 24 legit?
Income School's Project 24 is not a scam. They are a legit affiliate marketing training course with lots of success stories to back it up.
Once you have made the payment, you gain access to the course programs without paying any other fees (no upsell).
Generally, when we talk about legitimacy, we consider the cost of unsettling an endeavour and the chance of getting conned off of your money.
If you are still in doubt, you can always check out reviews on the internet or forums to get different opinions.
As I have previously mentioned, the major downside to Project 24 is that you will not get a refund once you pay for the course.
Should You Join The Income School's Project 24?
If you intend to earn passive income online and acquire skills that would be helpful to you later on, then you can join in on the program. However, the program is for those who really want to put in the required effort, as it isn't a get-rich-quick scheme.
Alternatives to Income School's Project 24
There are many options to pick from regarding the alternatives to Income School's Project 24. However, I have highlighted four that I feel would be a great alternative.
The Affiliate Lab by Matt Diggity,
The Authority Site System by Authority Hacker,
Wealthy Affiliate,
Inbox Blueprint.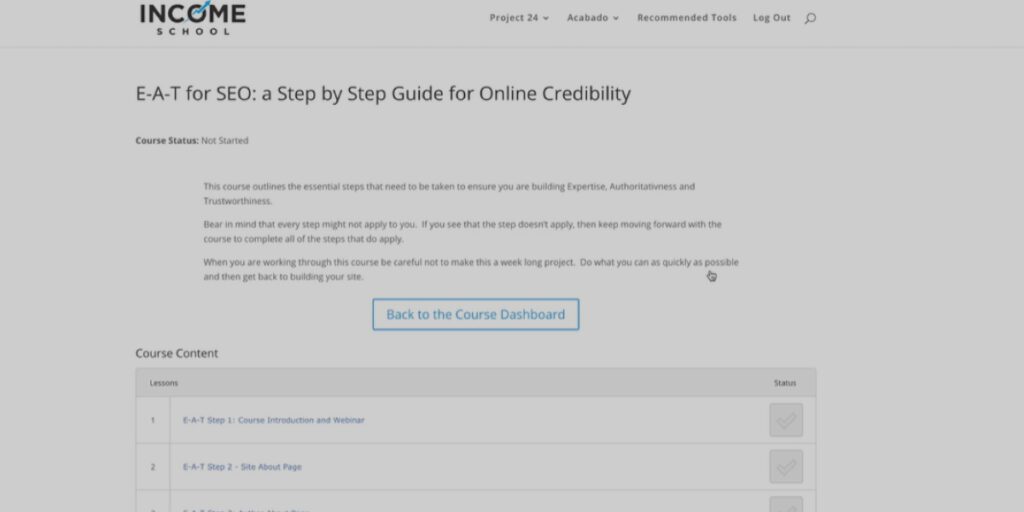 Bottom Line
Deciding to earn passive income is the first step to financial freedom, and the fact you are reading this Project 24 review means you are about to take a step in that direction.
I reviewed Income School's Project 24 course to show you what to expect if you decide to sign up for the course to learn affiliate marketing.
I can say that they are one of the best affiliate marketing courses out there on the internet but definitely not your only option.
However, remember that they are not a get rich quick scheme and require that their students put in enough effort. If you're ready to do the hard work, I'll encourage you to try Project 24 because it has real value for money.
Thanks for reading. And while success awaits you, I wish you all the best in your affiliate marketing journey.