Writing a blog post can sometimes be difficult and time-consuming, from keyword research to content outlines, title writing, and the entire blog post. These whole processes generally take between 3-5 hours to complete on average for just one blog post. Luckily, with the help of Content writing tools like Bramework AI, you can easily cut down on the time you spend writing blog posts and 10x your content writing.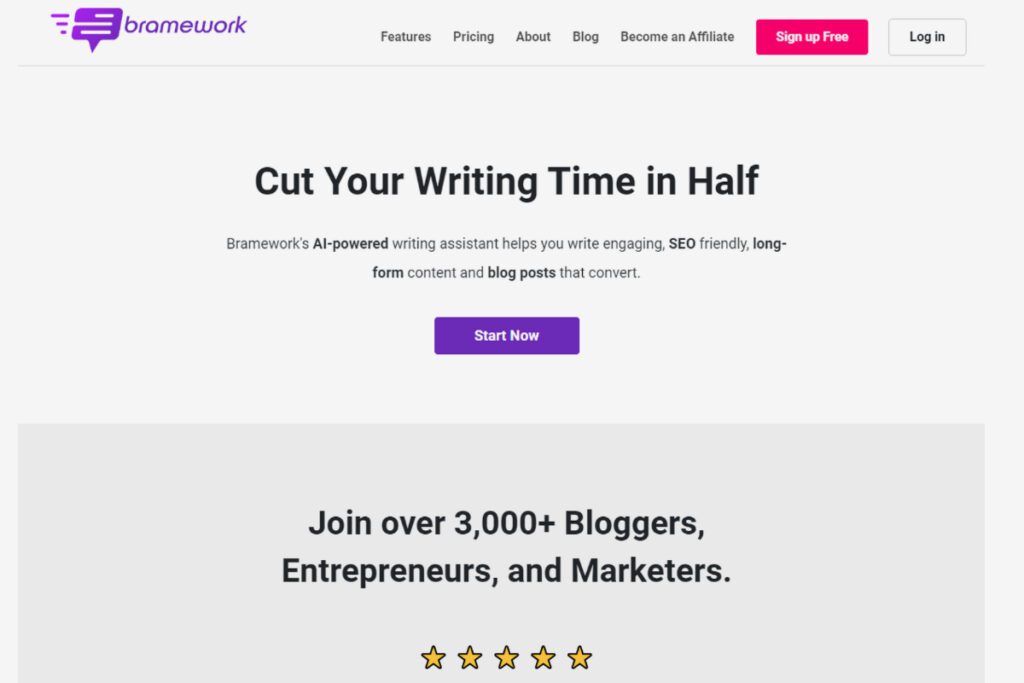 What Is Bramework AI?
Bramework AI is an AI-powered content writing tool that helps bloggers and writers create high-quality content in a fraction of the time. The tool comes with a range of features that help to make the writing process easier and faster, including a content outline generator, SEO keyword research tool, plagiarism checker, and much more.
To get the most out of Bramework AI, simply enter your main keyword into the tool and let the AI assistant do the rest. The writing assistant will generate a list of suggested keywords and a content outline for your blog post.
Once you have the outline, simply use the built-in AI to generate content, add your own writing tone to the content, fact-check and then use the built-in plagiarism checker to ensure that your content is original.
What You Should Know Before Publishing AI Content On Your Website
Using AI content writing assistants can help you become a better writer in no time. Does that mean you should no longer worry about writing articles anymore and leave it all to artificial intelligence?
The honest answer is NO. Although with the help of a good AI writing assistant tool like Bramework, you will be able to write content 10x, 20x, or much more, faster than an average blogger.
However, you should not publish AI writing content on your website without proofreading, checking plagiarism, and fact-checking the content. If you don't carry out these checks, that will result in a total poor practice.
To follow the best practice when using an AI writing assistant tool, you should always follow the 80-20 rule, which means that 80 per cent of the content can be written by the AI tool, and you should write 20 per cent of the content.
This will help you speed up your content writing process and ensure that your content is error-free and of high quality.
Don't worry; I will explain everything in detail in this Bramework review.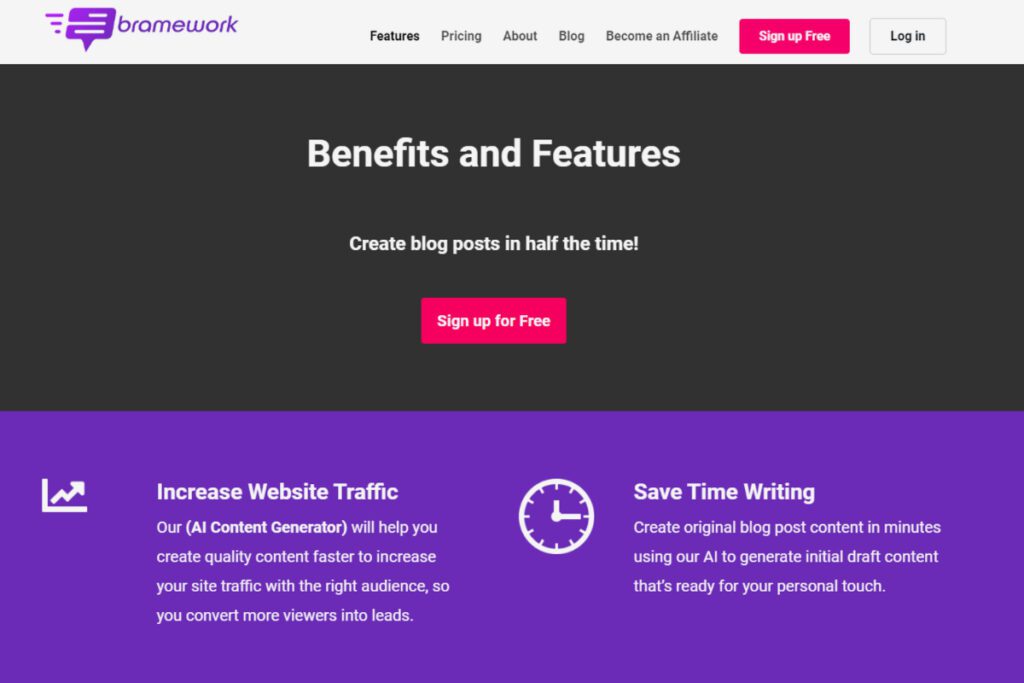 What Are The Benefits Of Bramework AI For Bloggers And Writers?
There are many benefits to using Bramework AI content writing assistant for bloggers and writers. It can help save time, increase website traffic, and build brand awareness.
Here are some examples:
Create quality content faster and increase website traffic with the right audience.
It can save you the time you spend on writing content by creating an initial draft of the content that is ready for you to add your personal touch or tone of writing.
The possibility of increasing your brand awareness by regularly and consistently posting content on your blog (but make sure you are not just publishing AI content).
Using its SEO feature can help you with your SEO ranking by improving your content with a boost. Analyses and suggests tips to improve post ranking.
The image finder can help save time by optimising royalty-free stock images for all parts of the post.
The ability to automatically publish your blog post directly from Bramework's platform to your blog. This will surely save you the time of having to copy and paste your content back and forth.
Although Bramework can help you in writing an entire article, I generally do not encourage using it for that purpose. My reason is this; AI is good in helping you to overcome writer's block through the content draft and writing assistance. However, you still need to do some fact-checks on the content and add your own tone of writing to the content before you publish it.
Simply by using this method, I can assure you that you will increase your writing speed to a minimum of 10x faster than an average writer.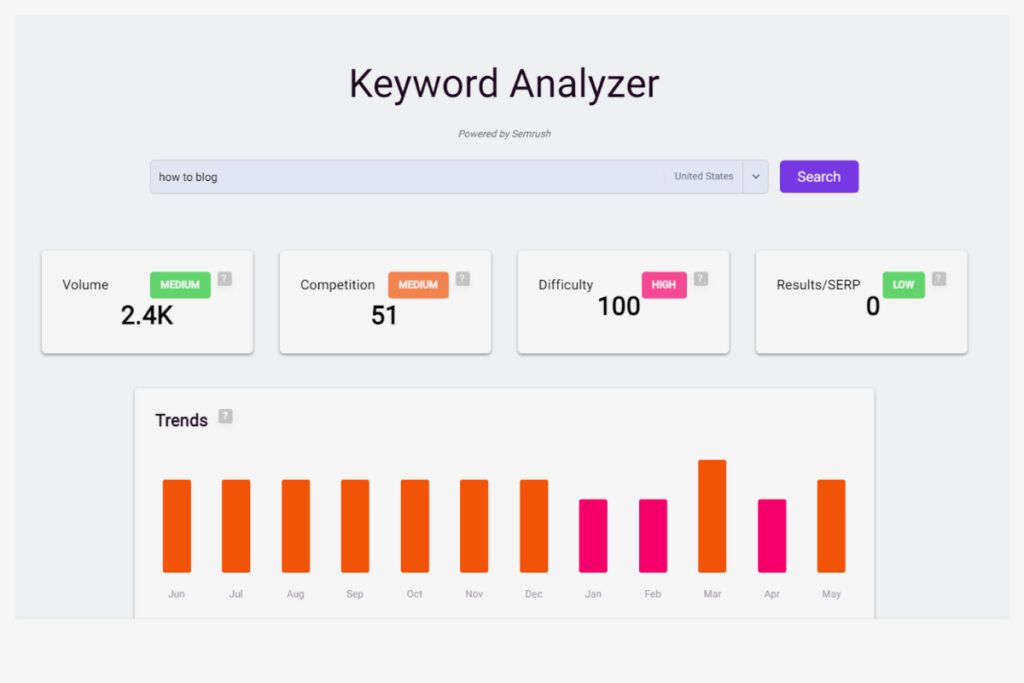 How Does Bramework AI Help Bloggers And Writers Create Better Content?
Bramework content writing assistant AI uses GPT-3 model in writing content, and this will help you as a writer to write fast and efficiently.
Their platform is multiuser friendly, which means you can add multiple users to your account depending on the package you choose. Also, their dashboard is created as a projects-based platform. What that means is that you can create a project for every individual website you are working on. And you will be able to add and restrict users from individual projects.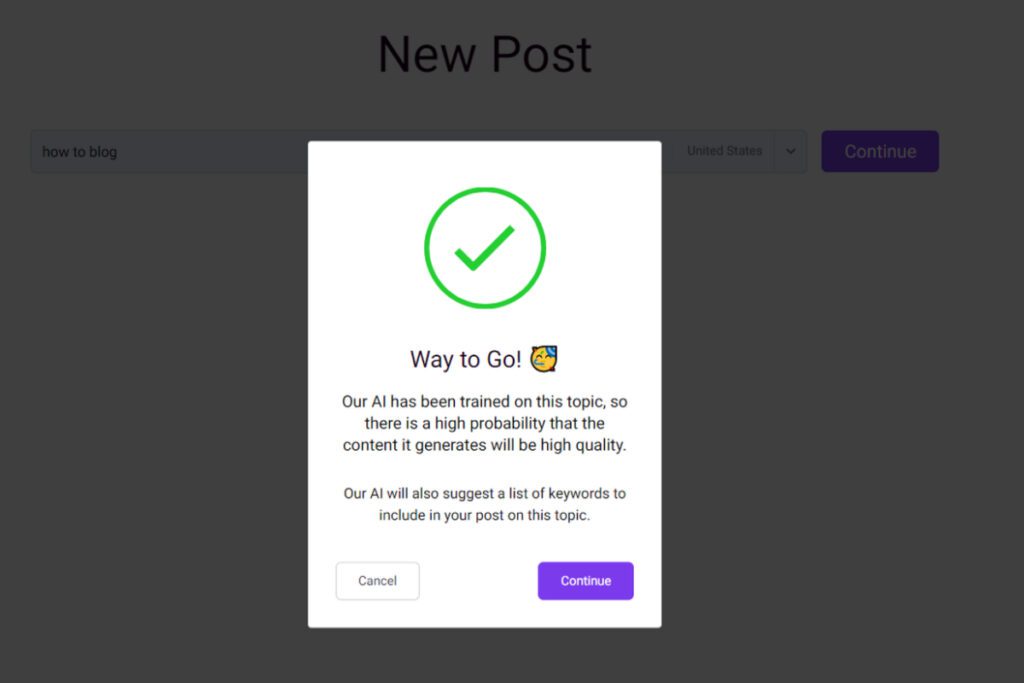 Understanding Bramework AI's Dashboard
Understanding Bramework's dashboard is pretty straightforward; the dashboard is user-friendly.
Here is how it works:
Once you are done with creating your project, all you need to do is to start with the keyword research tool by adding your keyword phrase to the keyword research tool to analyse the potential of your keyword. Once you are done with the keyword tool, you will be moved to the section where you need to add your primary keywords up to a maximum of 5 keywords (including the suggested ones).
After adding your keywords, you will be moved to the writing editor, where you will have more options such as the AI writing assistant to start writing, plagiarism check, auto-publishing to WordPress, be able to preview the content, share the content and much more.
On the AI writing assistant page, you will see the following tabs; Instruct, Title, Outlines, Keywords, SEO and History.
Let me start by explaining what everything means.
Instruct: In this tab, there are three things for you to do. The first one is the tone in which you want the AI to write (the default tone is Professional). The second is where you can still add your keywords if you did not add up to the required five keywords and now want to. The third one is Instructions, where you need to provide the AI with additional information on how to generate your content. For example, you can tell the AI to be clear and concise when writing.
Title: On the title tab is where the AI will generate and suggest titles for you to choose.
Outlines: On this tab, you will be able to generate outlines for your content. This includes the article introduction, the subheadings, and the conclusion. If you don't want the AI to write the content, you can generate the outlines and send them to your writer to write.
Keywords: This is where you will find your primary keywords, related keywords, top questions related to your keywords and top posts.
SEO: The SEO tab will show you your content SEO score and tips to optimise your content for a better SEO score.
History: In the history tab, this is where you will find all the history of the content you are writing. From there, you can always reinsert back into the editor contents that you have accidentally deleted.
Aside from the AI writing assistant, you have the option to save and preview your content to see what the completed work will look like.
Oh, before I forget, I remember I mentioned GPT-3 model earlier. Let me quickly explain what GPT-3 is all about.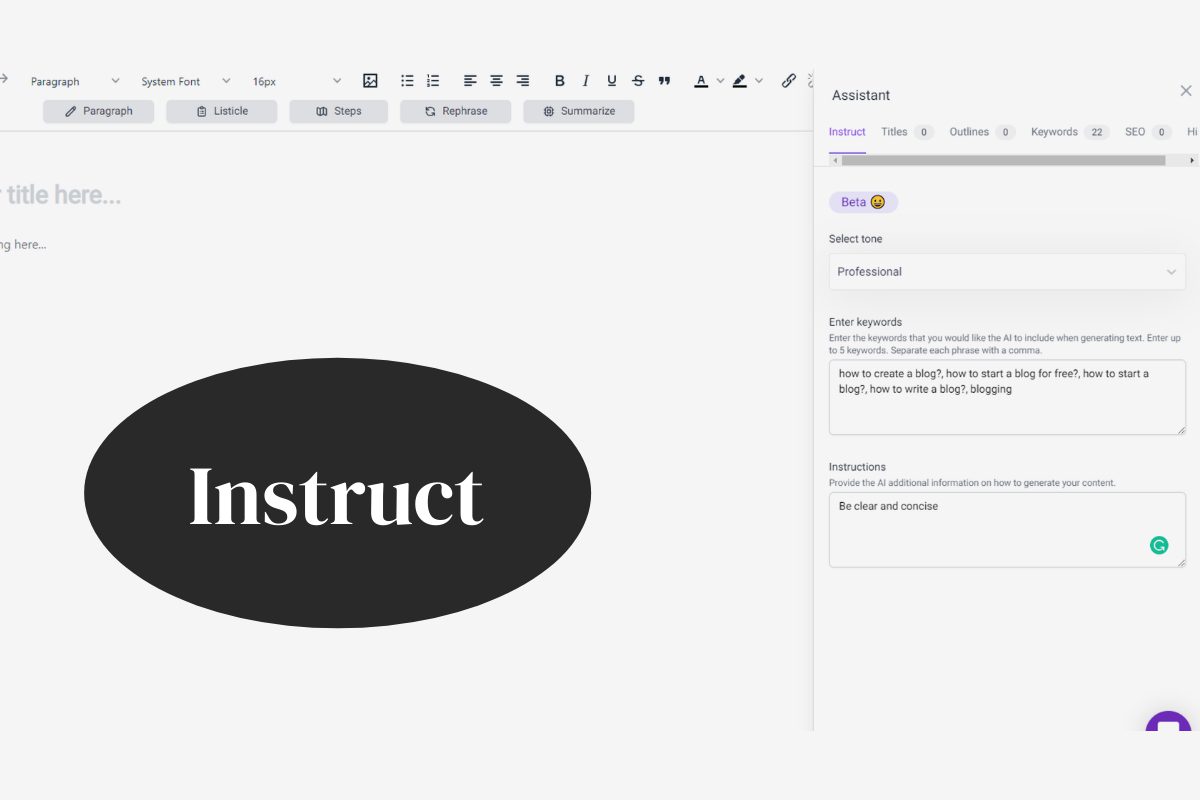 What is GPT-3 Model?
GPT-3 is a machine learning platform that enables developers to train and deploy AI models. It is also said to be scalable and efficient with the ability to handle large amounts of data.
Some of the benefits of using AI writing tools that use the GPT-3 model for writing blog posts include:
Increased Efficiency: With GPT-3, content is generated faster and more efficiently.
Improved Quality: GPT-3 can also improve the quality of writing by making it more accurate and consistent.
Increased Engagement: GPT-3 can help create more engaging content that is more likely to hold readers' attention.
What Are The Features Of Bramework AI That Make It Helpful For Bloggers And Writers?
Bramework AI can help improve your writing skills by automatically generating content. – This technology can help you to create more meaningful and engaging content for your website or blog.
Bramework AI can help improve your SEO ranking by recommending keywords that are related to your website's content (which you will find in the keyword tab). These are keywords that you can easily add to your content to better optimise the content for better SEO.
Bramework AI's capabilities can help you save time on an average of 10x the amount of content you produce. Additionally, Bramework AI can help you write more effectively by providing structure for your writing.
With the quality of the AI writing assistant content, the tool can help improve the quality of your writing.
The platform is multiuser friendly.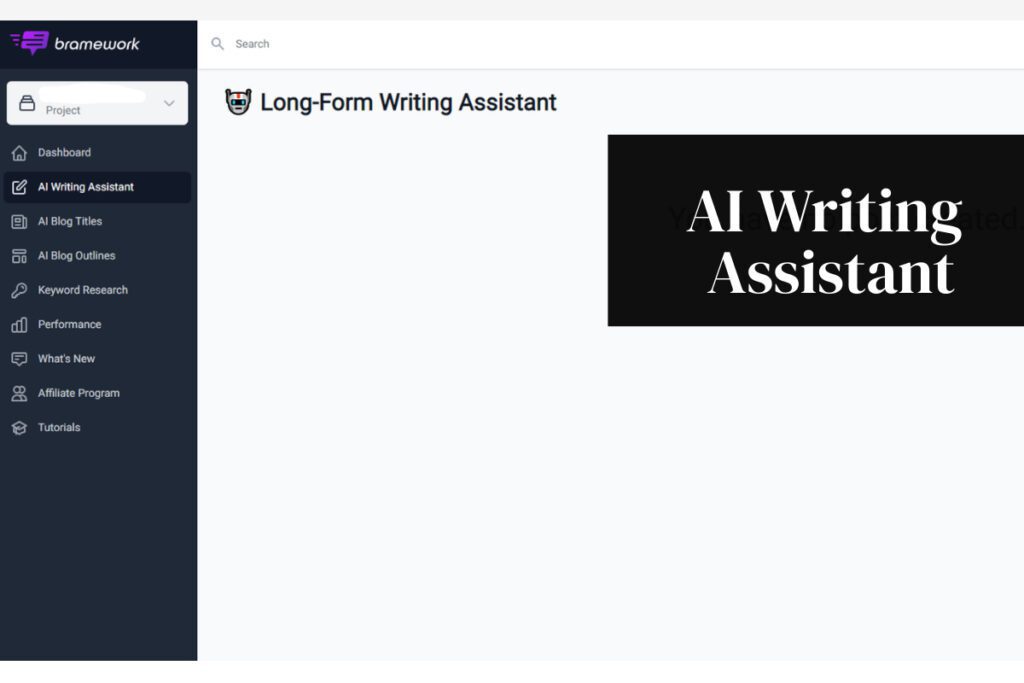 How Easy Is It To Use Bramework AI?
Bramework AI is quite easy to use. The interface is straightforward, and the AI, content writing assistant, is quite easy to use. All you need to do is provide the instruction to the AI and watch it generate the content.
On the writing editor dashboard, there are a few things that I've not discussed, that is, the process of generating content with the AI while using the editor.
Bramework Content Editor Dashboard
The content editor dashboard is self-explanatory; however, there are five buttons that I'll want to explain further.
Paragraph – This button is what you need when you want the AI to generate content. For example, if you want the AI to write about a text, just highlight the text and click the "Paragraph" button.
Listicle – To generate a list of text, you will need this button. The same applies; just highlight the text and click on the "Listicle" button.
Steps – This button is used to generate steps related content.
Rephrase – As the name implies, the rephrase button is used to rewrite texts in order to make content unique.
Summarise – The summarise button is used to summarise texts. For example, if you have a chunk of text and you want to summarise the text into clear and concise texts. That is the power of the "Summarize" button.
All these buttons can either be accessed from the top of the editor or after you right-click the texts.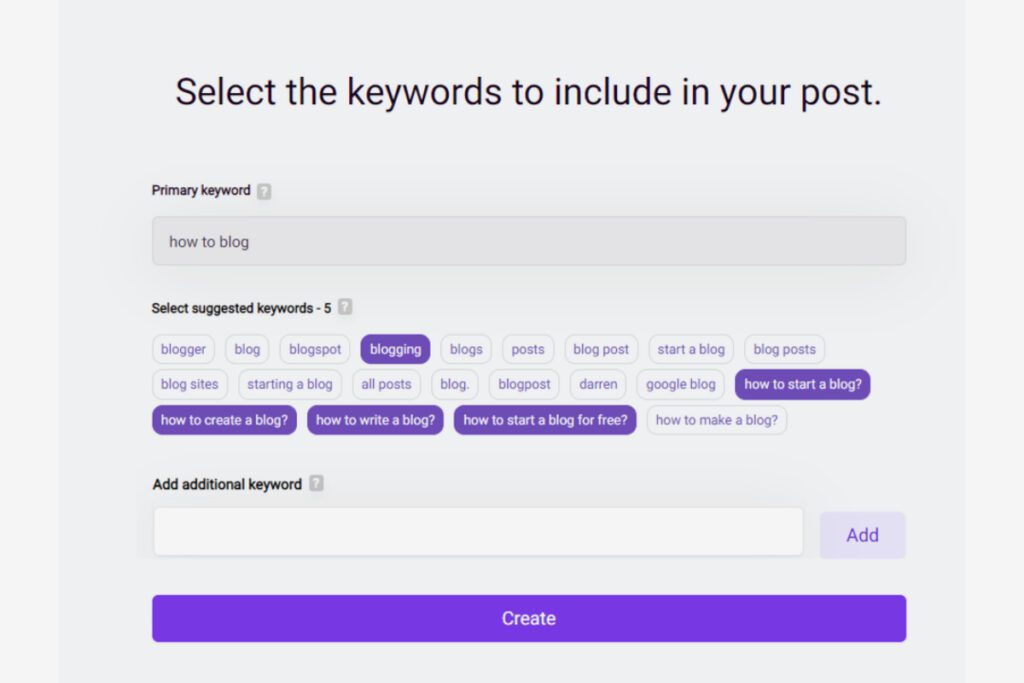 How Much Does Bramework AI Cost?
Bramework AI has 4 types of pricing plans: Basic, Starter, Professional and Agency.
Basic – their basic package is $19 per month.
Starter – this package is $49 per month.
Professional – It's $79 per month.
Agency – the agency package is $199 per month.
See the image below for details of the individual price plans.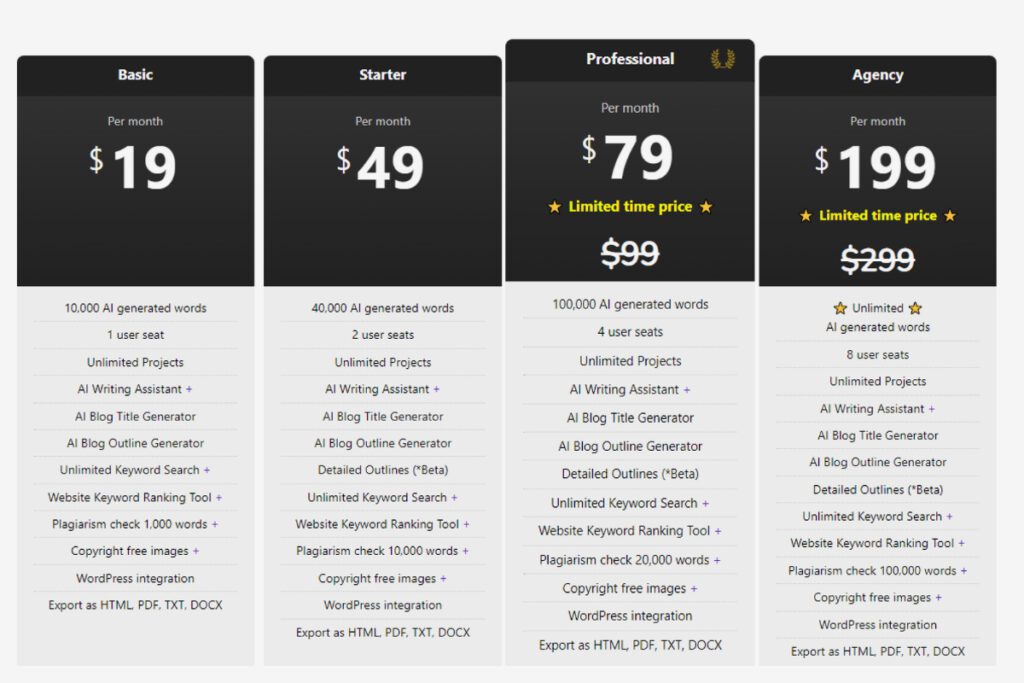 Is Bramework AI Writer Worth It?
Bramework AI is a powerful content writing AI assistant capable of generating unique and quality blog posts. The tool is one of its kind for content writing because it is specifically designed for blog post writing only. However, like any other AI writer, the tool does have its Pros and Cons.
Having said that, It all depends on what you are looking for in a content writing assistant tool. If you are looking for something that can help you while writing detailed and SEO-friendly content, Bramework AI could be a great investment.
To summarise if it's worth the investment: this AI content writing tool can help you come up with topics to write about with their keyword research tool. It can also help generate blog titles with AI, check for plagiarism, write blog outlines with the AI, and even help you optimise your content for search engines like Google, Bing, and much more.
How Does Bramework AI Compare To Other AI Content Writing Tools – Like Frase AI, Rytr AI?
Bramework AI is a unique content writing tool that is primarily designed only for writing blog posts. The tool offers a wide range of features that allows users to create high-quality content quickly and easily. They are not like other AI content writing tools designed for multipurpose such as both short-form and long-form content and other purposes.
Bramework AI also offers an easy-to-use interface that makes it simple to get started with creating content.
Bramework AI vs Frase AI
In terms of writing a blog post, Bramework is far superior to Frase AI based on the quality of the content that Bramework produces. Bramework AI's contents are more readable without going off-topic, while Frase AI goes off topic a lot when writing.
However, when it comes down to optimising your content after you've completed the writing, Frase AI does a better job when optimising your content for better SEO.
Overall, Bramework is the better AI tool for writing a blog post, while Frase AI is better for optimising your content for better SEO performance.
Bramework AI vs Rytr AI
Bramework is again the better AI content writing tool for writing a blog post. This is because Bramework AI produces more readable and on-topic long-form content than Rytr AI.
Although, as I previously mentioned, Bramework AI is designed primarily for long-form content (blog posts), Rytr AI can be used for a range of content types such as social media posts, product descriptions, and website copy (short-form content).
In terms of writing short-form content, yes, Rytr AI does have the advantage. This is because Rytr AI is designed to write shorter content. However, Bramework AI can still be used to write shorter content pieces; but it may not be as optimised as Rytr AI for this specific content type.
Overall, Bramework AI is the better AI content writing tool for writing long-form content such as blog posts, while Rytr AI is better suited for writing shorter content pieces.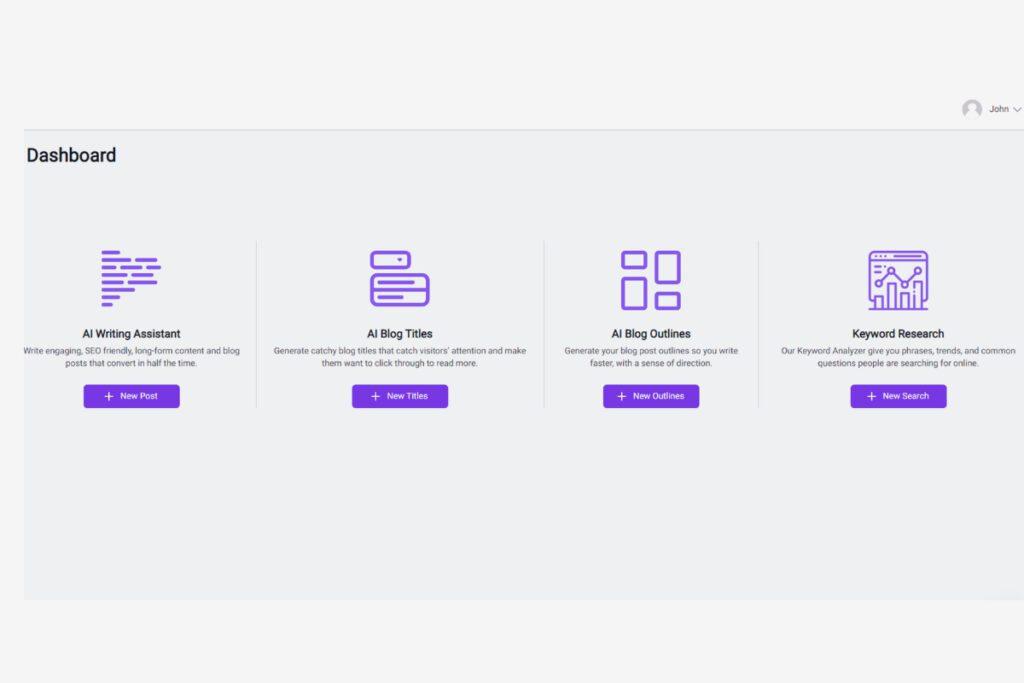 What are the pros and cons of Bramework AI?
PROS:
Quick and easy to use
Generates high-quality content
It has a variety of features to help you with writing
The price is affordable
Multiuser account
The ability to separate each website as a project.
CONS:
It may not be suitable for all writing tasks
Some of the features may be confusing for some users
You cannot restrict the amount of credit each sub-user can use from your account credits.
Is Bramework AI Right For Every Blogger Or Writer?
Brainwork AI is an excellent option for bloggers and writers who want to speed up their writing ability for better productivity and overcome any chance of writer's block slowing them down.
However, one thing to keep in mind is that it still requires a human touch to make sure everything is perfect, like most AI writing tools. So, I would still recommend taking the time to edit and proofread your content before publishing it.
Overall Verdict
Like any AI writing tool, I strongly recommend applying the 80-20 rule when using an AI content writer.
80 per cent of the work can be done by the AI tool, and you (the writer) will have to do 20 per cent of the work, such as plagiarism check, fact-checking the content and making sure it reads smoothly.
Also, as part of your 20 per cent, you need to add your own tone and voice to the content to make it sound more natural.
What are the potential risks of using Bramework AI?
I have not noticed any major risks from using Bramework AI content writing tool. However, on some occasions, I have run into situations where the AI could not generate the correct information for some uncommon products. When that happened, the AI went completely off-topic.
Haven said that it's not a common problem with Bramework AI like other AI content writers in the market.
Generally, some of the common problems of most AI writers include potential plagiarism, inaccuracies, and poor writing quality.
On the issue of plagiarism, Bramework does have the upper hand in that because they do have a built-in plagiarism checker on their platform.
In my opinion, the risk of using Bramework's AI is limited in as much you take the time to edit, fact-check, proofread, and check for plagiarism before you use the content.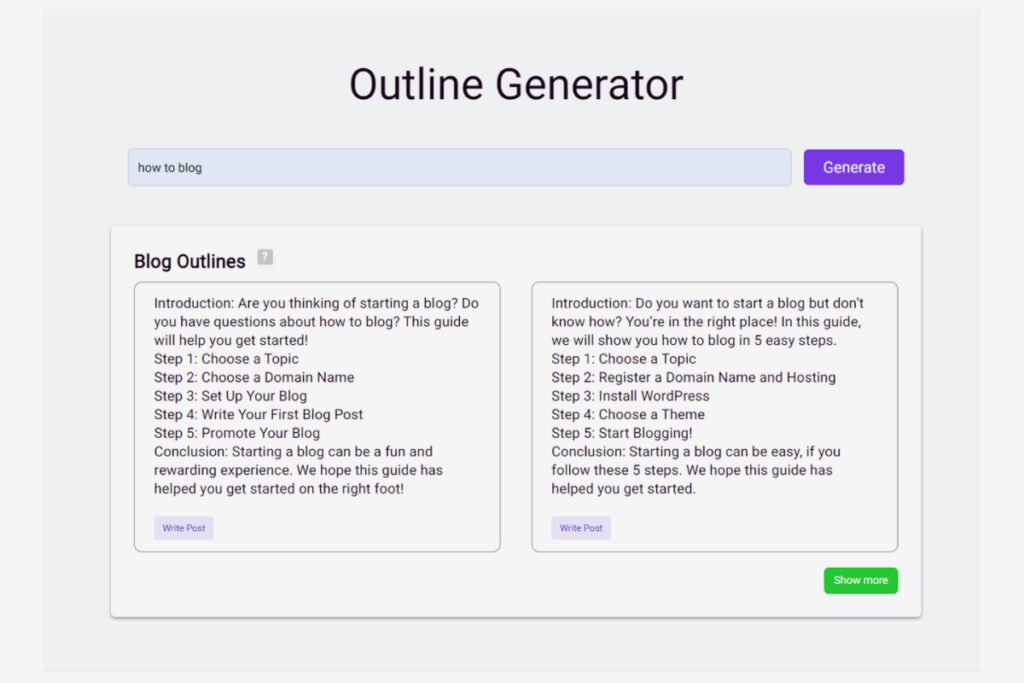 How can bloggers and writers get the most out of Bramework AI?
Bloggers and writers can make the best use of this tool by taking advantage of its many features. These include the ability to generate titles, outlines, and SEO-optimized content.
Additionally, the tool provides a featured image library and a plagiarism checker to help ensure that your content is original and of high quality.
Conclusion
Overall, Brainwork is a great AI content writing tool with lots of features that make it easy to use and produce high-quality content.
However, there are a few potential drawbacks to using an AI tool. It is important to remember that you will still need to give the content a human touch in order to make sure it is error-free and reads smoothly.
Additionally, while Brainwork offers many features, they still have a journey ahead of them to compete with AI writing tools like Jasper AI. Although, they do have the potential to take the top spot if they continue to develop innovatively and actively support their platform users.
Hope you find this Bramework review helpful? Now over to you, what do you think about Bramework AI? Please feel free to share your comment below.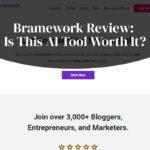 Bramework AI
Verdict
Overall, Brainwork is a great AI content writing tool with lots of features that make it easy to use and produce high-quality content.
Pros
Easy to use
Generates high-quality content
Lots of features
Cons
May not be suitable for all writing tasks
You cannot restrict the amount of credit each sub-user can use from your account credits.