In this MaxBounty review; I'll be sharing with you my personal experience with the company, and other facts I think you need to know about MaxBounty!
Company Name: MaxBounty
Overall Ranking: 91% out of 100%
Commission Type: CPA, CPL, CPS
Country Allowed: Worldwide
Minimum Payment to Withdraw: $100
Payment Frequency: Weekly, Net-15 (first month)
Payment Method: Check, PayPal, Wire, Payoneer, ACH (Direct Deposit), Bitcoin
Tracking Software: In-house proprietary platform
MaxBounty Sign Up: It's FREE to sign-up
Website: MaxBounty.com
What you will learn from this MaxBounty review
I'll be discussing the followings:
MaxBounty Review – Overview
MaxBounty is a Canadian based CPA affiliate network that was established in 2004; the company has stood the test of time in becoming one of the well-known and reputable names in the industry. Although; MaxBounty does have some downsides (see the Pros and Cons below).

MaxBounty review – What is MaxBounty?
MaxBounty is a cost per action (CPA) affiliate network, otherwise known as performance-based marketing. It's a platform where advertisers can advertise their products (known as OFFERS), and only payout rewards (commission) when the required task or action is been carried out.
MaxBounty is basically a middleman between you (affiliate marketer/publisher) and the advertiser.  Advertisers put up their offers on MaxBounty's website; mainly, the advertisers are only interested in rewarding you for your traffic to their offers – but only if the audience from your traffic carries out the required task or action.
For example: if you send ten people to an offer you're promoting from MaxBounty, and only one person carries out the required task; then you'll get paid the specified commission based on one person (that's one conversion).
In some cases; the action required by the advertiser can be as simple as just filling out a form on their website (which is quite common in CPA offers).
One of the good things about MaxBounty is that you have the opportunity to promote hundreds of offers with good conversion rate, and earn yourself a decent income! But there are work's involved; remember – you get paid for your action!
Who is MaxBounty for?
MaxBounty is for any affiliate marketer that wants to make extra money or any affiliate marketer that wants to earn money faster than the usual affiliate marketing process. Basically; CPA offers are easier to get conversions, simply because of the simplicity of some of the required actions from the advertisers.
The key to your success is your traffic! The more decent traffic you can send to an offer; the better your chances of getting conversions (meaning – people are taking the required action).
In my experience; I actually got conversions from my first offer and my first month with MaxBounty. My payout for the first month was not much though ($175), but it was enough to prove it works! That was when I started promoting CPA offers (a complete beginner then); so, making money from the first month was a big boost for me.
What are the Benefits of MaxBounty?
User-friendly interface
Very reliable in paying their affiliate marketers on-time
They provide FREE educational resources on their website and other related training for you to get started as an affiliate marketers
Basically; if reliability and results are what you really need from CPA offers; then MaxBounty is the place for you. You can see more of the benefits in the PROS below.
What are the Pros and the Cons of MaxBounty – The Advantages and Disadvantages?
MaxBounty Pros:
Highly effective approval process with quick response (in as much you follow the guidelines)
They provide you with thousands of products and services to promote and earn decent money regardless of your chosen niche
Reliable platform with a user-friendly interface.
Very reliable payment system with lots of payment options – such as PayPal, Wire transfer, Direct Deposit, cheque and Payoneer
Highly experienced support system (Unlike other affiliate networks)
Their delegated affiliate managers are quite very helpful; they're much interested in helping you succeed
MaxBounty provides quality educational resources for you to educate yourself properly as an affiliate marketer.
MaxBounty Cons:
You can easily get banned if your traffic's are questionable
MaxBounty does have a very strict registration process for affiliate marketers that does not have a website, and which it's more of a disadvantage for newbie's (beginners)
Not enough offers to promote (if compared to some affiliate networks in the industry).
MaxBounty Sign up
If you're interested in signing-up with MaxBounty; you can follow the link below to sign-up for an account.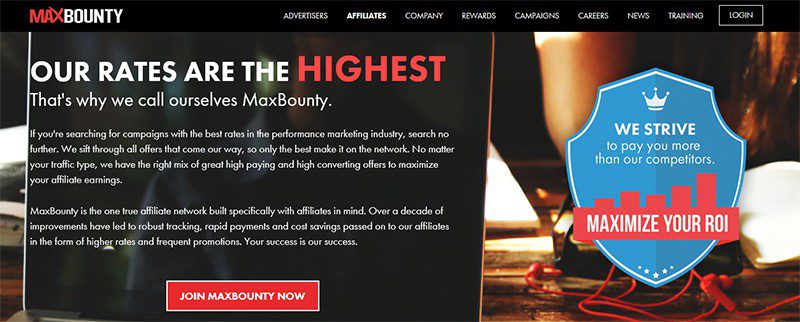 My Opinion about MaxBounty
MaxBounty is 100% Legit, and it's one of the very few affiliate networks with high converting offers. You have a better chance of earning a good income from them if you can provide good traffic to their offers.
The secret is – Good Traffic!
MaxBounty review – Conclusion
MaxBounty is a force to reckon with in the affiliate network industry, and there's no doubt that you can earn decent money with their offers. I've been there; and from my experience, I can categorically tell you that MaxBounty is one of the most reliable CPA affiliate networks in the industry!
---
What's next?
If you find this MaxBounty Review helpful; please, kindly leave your comments below; I'll really love to learn from your experience.
Many thanks.
MaxBounty Frequently Asked Questions – FAQ's.
What is MaxBounty?
MaxBounty is a CPA affiliate network where you can find offers to promote.
What is CPA Marketing?
CPA means Cost Per Action; meaning – the advertiser will only pay you if the required action is been carried out. Although, the good side about CPA marketing is this; the more intense the required action, the more higher your commission (in most cases).
How do I become an affiliate with MaxBounty?
The first step you need to take is to sign up on their website. After you've signed-up; a confirmation email will be sent to you to validate.
Once that is done; they'll review your website for appropriate contents and contact you to finalise the process (mostly to understand how you intend to promote their offers).
Is phone verification required to become an affiliate with MaxBounty?
Yes; it's a must! You will not be approved into MaxBounty affiliate network without phone verification.
What's the fastest way to get approved by MaxBounty?
If you want your account to be approved on the same day; then follow the following steps:
Sign up for MaxBounty account
Check your email and validate the confirmation email they've sent you
Call the affiliate manager listed on the confirmation page (only call during normal business hours).
Rather than waiting for them to contact you; if you follow the above three steps, you can possibly get approved on the same day you sign-up.
Does MaxBounty accept international affiliate marketers?
Yes; they accept affiliate marketers from all countries (worldwide).
Will I be approved with MaxBounty if I don't have a website?
You may possibly not get approved. But if you call the affiliate manager assigned to your application, and explain how you intend to promote their offers; you might be lucky and get approved.
When are affiliates paid at MaxBounty?
MaxBounty pay's their affiliates on a monthly net 15 basis. Meaning; if you generate revenue in January, you will receive the payment in February 15th.
Once you have received your first payment; then you'll be automatically placed on a weekly payment schedule (that's if your preferred payment method is electronic payments).
MaxBounty requires a minimum balance of $100 before they issue your payment. Meaning; if you don't reach the $100 minimum; your earnings will be rolled over to the next pay period until you reach the $100 minimum payout.
What about MaxBounty's weekly payments?
You must earn at least one payment before you're entitled to their weekly payments.
How does MaxBounty pay their affiliate marketers?
MaxBounty pays its affiliates by Check, PayPal, Intercash, eCheck, ACH, Wire, and Bitcoin; although, the available payment options depend on the affiliate's home country.
All earnings are paid in US Dollars, but you may still get the benefits of receiving your payment in your national currency and from a local bank if you choose to check as your payment method (international affiliates).
What is incentive traffic and is it allowed at MaxBounty?
Incentive traffic is basically when an affiliate marketer offers people with some form of rewards if they carry out the required action by using the affiliate marketer's link.
Yes, MaxBounty does accept incentive traffic but with some form of limitations to offers, you can promote…
Does MaxBounty accept content unlock traffic?
Yes, MaxBounty does accept content unlock traffic but only on campaigns which accept incentive traffic.
Does MaxBounty cost money?
No, you don't need money to join MaxBounty. It's completely free.
How do you get approved for MaxBounty?
Getting accepted by Maxbounty is quite straightforward, but you really need to prove that you have the skills and experience that they need from an affiliate marketer like you. The most important process of getting approved on Maxbounty's network is to prove your level of experience. You need to prove your level of experience through your application process and when speaking with one of their affiliate managers who will determine either to accept you on their network or not. You need to be as detailed as possible.
Basically. All that Maxbounty requires from affiliate marketers is experience. They simply need affiliate marketers that can genuinely help in promoting advertisers offers ethically with high conversion rate.
How does MaxBounty make money?
MaxBounty makes money from promoting advertisers offers on their network.