Are you a blogger hoping to find a concise Adsterra network review to know if the network is an alternative to AdSense? Or were you denied Google AdSense and now you want a network that also pays well? Then read on.
Making money is one of the reasons that people invest in blogging. It is one of the most common ways to make money online. Nevertheless, as a blog owner, are you looking for ways to earn traffic on your site?
In this Adsterra network review, you will discover all you need to know about Adsterra advertising network, and how you too can make use of their platform.
Content Video
What is Adsterra about?
Adsterra is an advertising network that was launched in 2013. This advertising network provides about 25 billion targeted impressions for websites globally in a month. Since its launch, it has also been used as a publishing platform by bloggers to earn through ads.
Over the years since its launch, Adsterra numbers have increased immensely. Currently, they provide about 25 billion impressions monthly, covers geo-targeted locations of up to 248. Also, there are over 10 thousand direct blog publishers and hundreds of thousands of successful campaigns.
This Adsterra network review will provide you with all that you need to know about Adsterra.
Who is Adsterra for?
Adsterra is a networking platform that is useful mostly for bloggers. If you are a blogger hoping to earn from your website traffic, Adsterra is the way to go. Although its features are limited, it is one of the best ways of earning through your blog.
Based on a personal Adsterra network review, I will suggest that new users do not try Adsterra. This is because of the high traffic requirements. It may be difficult to gather real impressions as a new blogger to make enough earnings.
It is a network that is useful if you are planning to grow your web, landing page, and many others. This Adsterra review will help you in making a decision about whether Adsterra is for you or not.
Can you make money using Adsterra to Advertise?
Making money through Adsterra is one of the most important features of the network. This is why most bloggers that check for an Adsterra network review do so. Although making money through the network has its requirements, it is a good way to earn.
Aside from being a publisher that can earn by allowing ads to be displayed on your websites, you can advertise. Also, ignore any Adsterra review that claims you can't earn because the network never delayed my payment.
Is Adsterra Network a Scam or a Legit Company?
This is one question bloggers have thrown around. This question is common to websites that provide services that seem too good to be true. Nevertheless, Adsterra is absolutely legit, I tried them myself and they never delayed my payment.
As explained earlier, the network was launched in 2013 and since then has provided quality services to its users. So, if your reason for checking this Adsterra review is to know if Adsterra is real, it is absolutely legit.
What are the Adsterra publisher requirements?
As with Google AdSense and other important advertising Networks, there is a requirement to join the Adsterra network. This Adsterra review will provide you with some of the major requirements to become a publisher. These requirements include:
The publisher must have a minimum of 5000 impressions in a month to earn the chance to use pop-under ads.
In order to display banner ads, publishers must have at least 50,000 post impressions in a month.
As a publisher that wants to join the Adsterra network, you must own an active website.
Publishers must not have too many number of ads on their sites.
Your website must be a growing website.
It is also important as a publisher that you only attract organic or real traffic. Also, buying fake impressions can get you suspended from the network.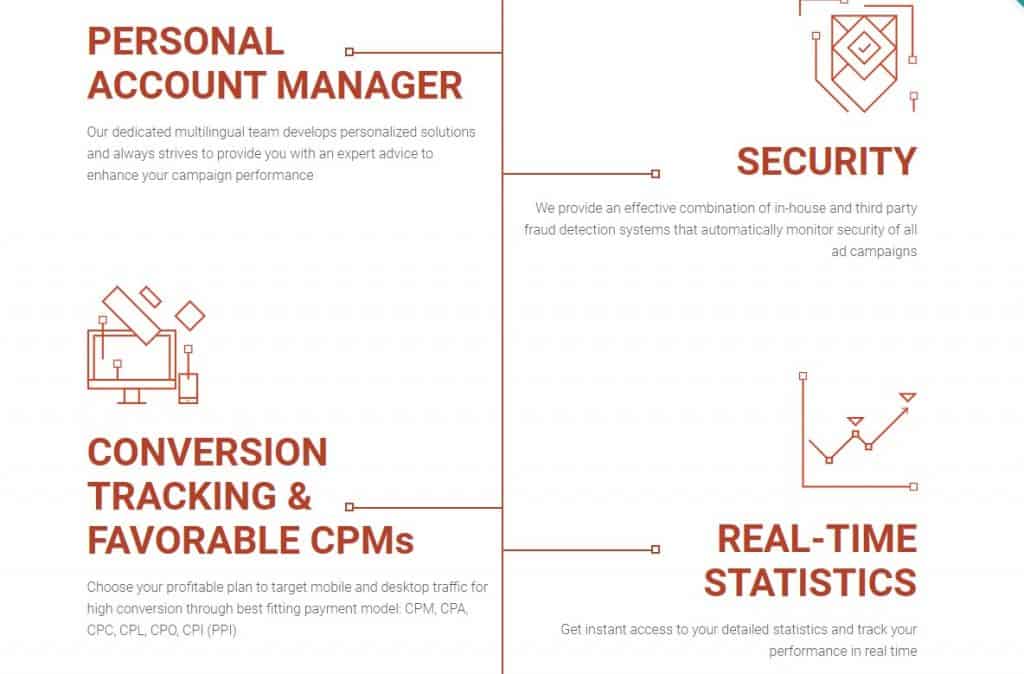 What made you choose Adsterra.com over similar businesses?
I chose Adsterra review over other similar advertising networks because of the information provided by other users' reviews. Also, as included by an Adsterra network review, the cost for beginners is relatively cheaper.
Adsterra network focuses on pop-under ads and they are very skilled in this class of adverts. Adsterra is known as one of the best if not the best to use for pop-under ads. Their advertisements are organized in ways that make the ads not disturbing to the user.
Adsterra verifies its publishers by charging a fee. This fee is charged before you display their ads to ensure that the advertiser is serious. This also provides a higher chance of earning for the publishers i.e. the bloggers or website owners.
There is one thing to hold on to in this Adsterra review. It is that Adsterra has their techs focused on pop-under ads and they are very good at it.
Why is Adsterra a good option?
Why should Adsterra be a good option for you to consider, right? What makes Adsterra an alternative to AdSense?
Is it a replacement for AdSense? No, it is not a replacement. Nevertheless, in this section of this Adsterra review, I will be telling you why Adsterra is a good choice.
Most publishers or bloggers that use AdSense are usually people that have been denied Google AdSense, so it's a reasonable thing to want an Adsterra network review to clear your doubts about the network. Below are reasons that may convince you as an advertiser or publisher to choose Adsterra.
High-quality Advertisers
Adsterra has a well-programmed retargeting method that allows publishers to earn very easily. It allows you to retain visitors and attaches you to quality advertisers. You should know that the type of ads that are displayed on your page in a way represents it. Hence, Adsterra ensures that you get the best advertisers.
High CPM rate
The CPM (cost per thousand) rate of Adsterra is also one of the high-side of the network. Probably, you are reading this Adsterra review and wondering that what is CPM? CPM is a method for calculating your income based on page visits, which is the price paid per thousand impressions.
Simply, when your page receives 10,000 daily visits on a CPM scale of $2, then you earn 10,000/1000 × $2. This is equivalent to $20, which is about $600 a month, and is not a bad earning for a start. All you should make sure of is to increasingly improve your content to attract more page views.
Large Audience Scale for Advertisers
I hope you remember that in this post, we have mentioned that the network is also available to advertisers. Adsterra manages thousands of quality blogs where advertisers can post their ads and manage their sales.
Several Ads Format option
As a publisher, Adsterra provides you with several ad format options (discussed later in this Adsterra review). These options determine the kind of ads that are placed on your page. The most important and popular of these ads include pop-under ads, display banners, etc.
What is the Adsterra minimum payment?
Adsterra's minimum payout depends on the payment method. The payment method and the minimum payment is one of the observed disadvantages of this network. The minimum payment goes thus:
Payments through Paxum – Minimum of $5
Payments through PayPal or Bitcoin – Minimum payout of $100
Wire transfers or payment – Minimum payment of $1000
Despite these limits, payment may include additional charges based also on the method of payment.
Extra-charges through:
Also since the platform is useful for publishers, all advertisers are charged a fee of up to $100 to ensure that they are serious and not scams.
What is the Adsterra minimum traffic requirement?
You should know that to be eligible as a blogger to become a publisher, there are requirements. Moreover, these requirements as compiled for this Adsterra network review include the following:
The publisher must have a minimum of 5000 impressions monthly to earn the chance to use pop-under ads.
There must be no posting of illegal or adult content on any of the blogs or websites by the publishers
In order to display banner ads, publishers must have a monthly minimum of 50,000 post impressions.
This impression limit is why I mentioned in this Adsterra review that it is not suitable for new bloggers.

What are the types of Ad Formats offered by Adsterra Network?
Series of Ad formats are offered by Adsterra advertising networks. Although the network is more focused on pop-under ads, there are other ad formats that you can use. This Adsterra review will not be complete without mentioning these formats, they include:
Display banners: the display banner ads require that a publisher has at least 50,000 impressions monthly to use. This advert is displayed as visuals and not texts. That is, it can be displayed through audio, images, or videos to communicate the advertisement.
Pop-under ads: As previously mentioned, this is the format of ads in which Adsterra is most advanced. Their team managers and professionals are more dedicated to this format. Hence, making it one of the best formats to use Adsterra for.
These ads can be coordinated to be location-targeted advertisements using Adsterra. Every Adsterra review must mention this format as it is seen as the most important feature of the network.
Direct links: these links format does not require that you create a banner or promotional content but are a sub-category of pop-under. This requires that you paste a direct link on your website content.
Skyscraper Ads: Maybe what you are interested in is an AdSense alternative, this is the ad format that provides you with that experience. The ads are displayed in various sizes that may be 160×600 or 160×300. You can choose based on which one you think will give the ads more visibility.
Another benefit of using this network that should be included in this Adsterra review is mobile support. Adsterra network provides an ads system that allows stability also on mobile devices. Hence, you do not have to worry about your visitors because the ads are mobile and desktop friendly.
How is Adsterra's customer service?
Adsterra Customer services are one of the must-discuss topics in this Adsterra review. One problem most bloggers have with similar networks is their awful customer relations and services. This can also happen when you find an Adsterra review comment and choose to verify it on your own. So how is their customer service?
Nevertheless, Adsterra is not in the same category, they have one of the best professional team supports. You can take up your concerns with the team or with your personal manager that is assigned to you.
However, this conclusion about their customer service is not based only on my personal Adsterra review but on other users'.
Also, if the query is not too urgent, you can use their amazing ticket system. This system allows you to drop queries and get your response within 24hours. Although taking up with the personal manager is a lot more interesting. You can chat with your personal manager through mail messaging without worry.
Also, going through this Adsterra network review intently, you will know that the service is also open to advertisers.

Bottom Line
Adsterra is a good option for publishers and advertisers that want a means of earning through ads. However, my conclusion is that it is definitely not a perfect alternative to AdSense.
If you are looking to start out monetizing your page, Adsterra is a very good choice. Nevertheless, if you can, use it as a secondary network and not your major advertising network. Adsterra is about the best pop-under network that you can find since it is their specialization. Hence, use their service for pop-under ads but employ another network for other formats.
I hope this Adsterra review answers your question about the advertising network…