As a website owner, writing good-quality articles is a must to rank your content higher on search engines. However, what is the essence of writing quality content when no one will see it on Google, Bing, or other search engine result pages?
Sometimes, the other articles ranking higher than yours are not even as quality as yours, but they seem to be getting more engagement. With this realisation, you may not be able to put your frustration into words.
Content writers will understand the complexities of content optimisation beyond writing engaging content but creating an evergreen read that people will always refer to on SERPs.
Businesses also know the importance of search engines in their industry. To rank above your competitors, tailoring your content to suit these search engines is the best way of appealing to your customers.
Hence, the website content, blog posts and other types of content have to carry relevant keywords that will enable the spiders or crawlers embedded on search engines to read through the information and provide someone with your content when they search online.
These search engine spiders have to crawl for information related to the search query of the person searching. They mainly try to understand the user intent of the person searching online by analysing your content for relevance.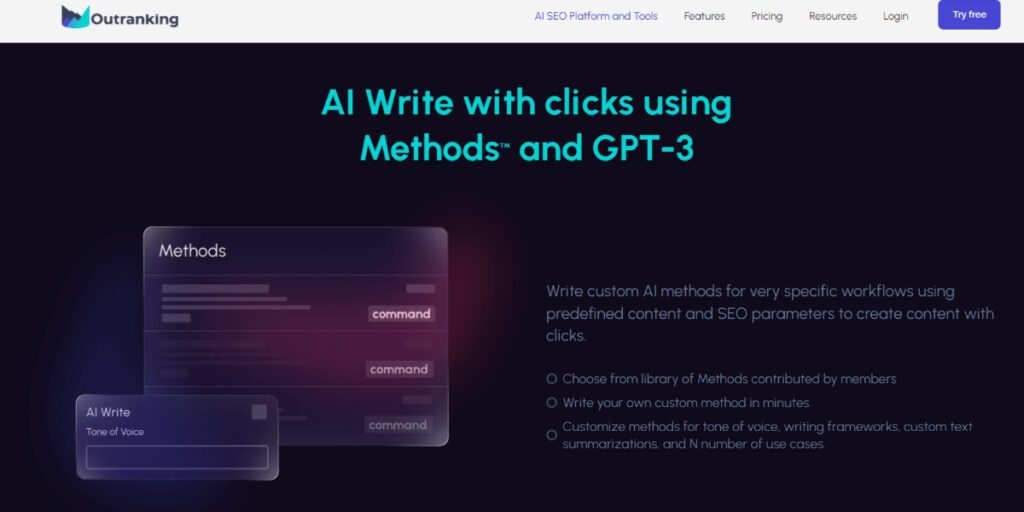 Should you worry about Optimising your Content for Search Engines?
Imagine having one of the best products on the market, and even when people search for related keywords, your product and website do not pop up in the Search Results.
That can be devastating; hence, the clamour for finding efficiency in content writing and optimisation is high, especially in a time when everyone is currently on their smartphones.
So, how can you optimise your written content to rank on the first page of search engines like Google?
 With the challenges and the difficulty of ranking your content on search engines these days, there is no doubt that you need an SEO tool to achieve any chances of ranking your content. This is where tools like Outranking AI come into play.
In this Outranking AI review, I will be discussing what this tool is all about and how it can improve the SEO quality of your content.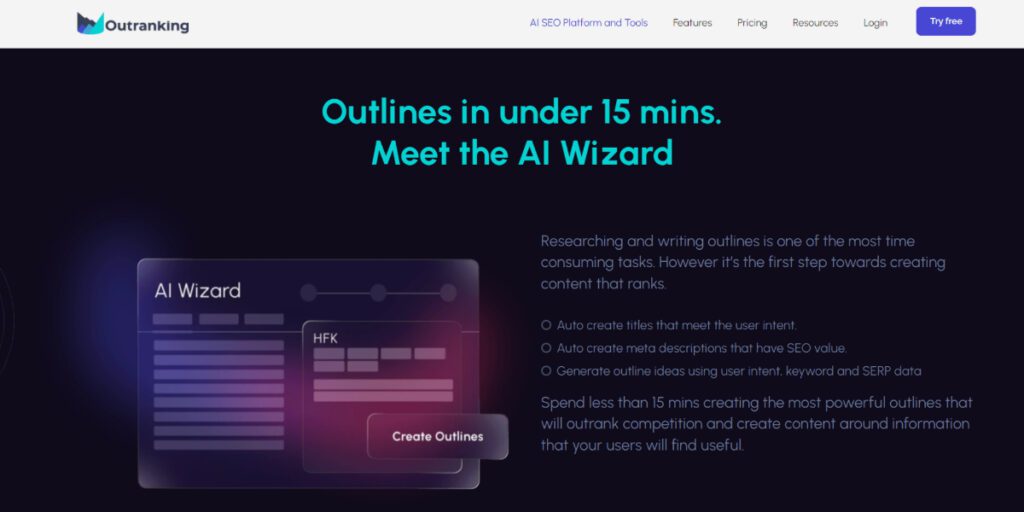 What is Outranking AI?
Outranking AI is a content optimisation and content writing AI tool that helps improve your content visibility on search engines such as Google. The tool improves your chances of organically ranking on search engines; it writes SEO optimised content for you and helps analyse your content for better Search Engine Result Pages.
Outranking.io platform is more like a combination of two great SEO tools: Surfer SEO and Jarvis AI writer.
Outranking offers a step-by-step actionable process in generating quality SEO content that will easily outrank other similar content.
The tool removes the frustration of having to spend hours or days researching before being able to create quality SEO content.
Although, Outranking is a new AI content tool that I believe will expand with more SERPs related features over the test of time.
Who is the Founder of Outranking AI?
Outranking AI is the brainchild of Natalie Luneva and her team. She and her team of linguists, data analysts, and SEO experts helped develop the Outranking AI tool.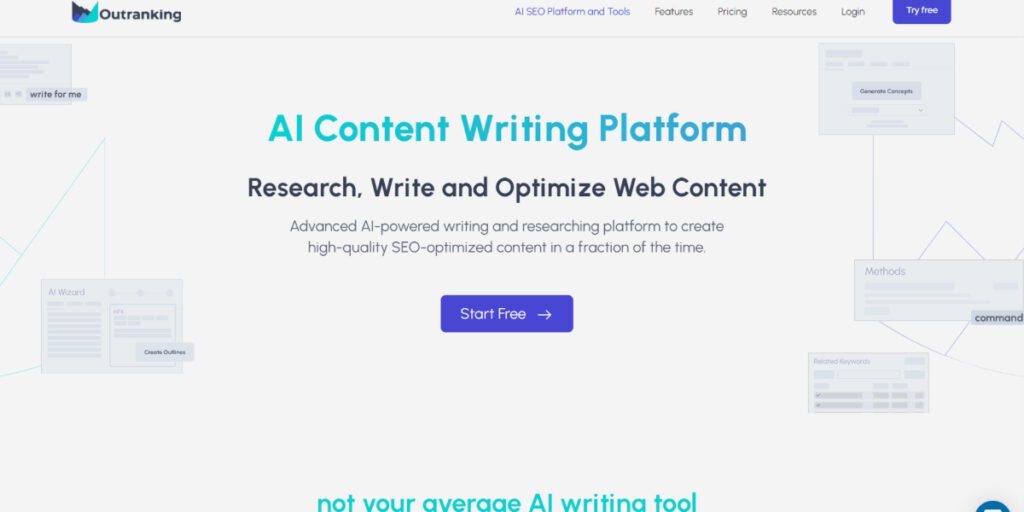 Key benefits of Outranking AI
One of the benefits of using the Outranking AI software is the extensive research it does for you. It simplifies your content research process, and it provides all the relevant information about the topic you're looking to create quality content around quickly.
The tool will write the content for you based on the data that it has gathered. Regardless of the purpose of the content, Outranking will create quality content considering the keywords and other relevant topics.
It optimises your content to give it a better chance of ranking above your competitors on search engines.
It helps you find the best keywords to rank for based on its SERP data.
It helps you create relevant subheadings, outlines and briefings through the use of its AI content writing wizard.
It provides you with in-depth data of the most commonly asked questions on Google, which you can use when creating your content.
What are the most popular features of Outranking AI?
The tool is similar to most top-of-the-range content optimisation tools in the market; however, it has some extra amazing features that make it unique. Here are their popular features:
Outranking AI Content Writing Wizard
Outranking AI content writing wizard is a text writing assistant tool that uses GPT-3 (Generative Pre-trained Transformer 3) machine learning technology to produce human-like text.
The content writing AI wizard can auto-create compelling titles, create SEO optimised meta descriptions, write your entire blog post, and write the outline ideas using the provided keyword.
It simply analyses data to build the content structures from SERP data and Google's People Also Ask results (PAA).
With the AI content writing wizard, you can easily say goodby to writer's block and poorly written content. You wouldn't have to worry about what to write or how to get your content optimised for a better ranking on Google.
The AI Content Writing Wizard will help you with your content writing, from the title to the content meta description, to the content section writing (subheadings) and much more.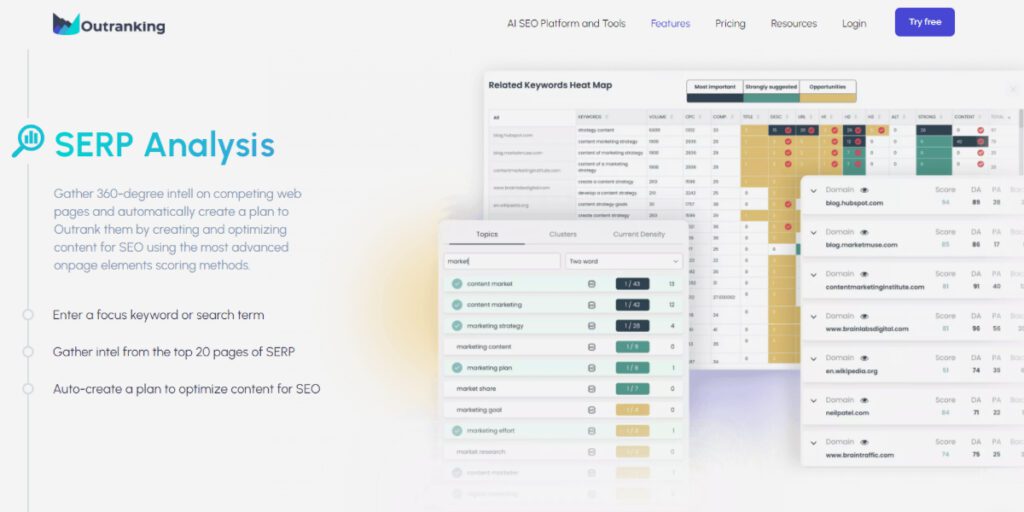 Outranking AI Concepts
The Outranking AI Concepts is a unique feature that helps you to write content based on the facts collected from a piece of existing information. It then sums it up into a more factual quality written content.
The Outranking Concepts can produce the following contents;
Write factual information about an E-commerce product.
Write unique content/blog posts from YouTube video transcripts or any other transcripts.
It has a built-in sentiment analysis that can extract the Pros and Cons of a given product.
Write an in-depth and engaging FAQ question.
It can carry out intense research in other to output good quality content.
Has the ability to carry out in-depth research with its state of the art research tool.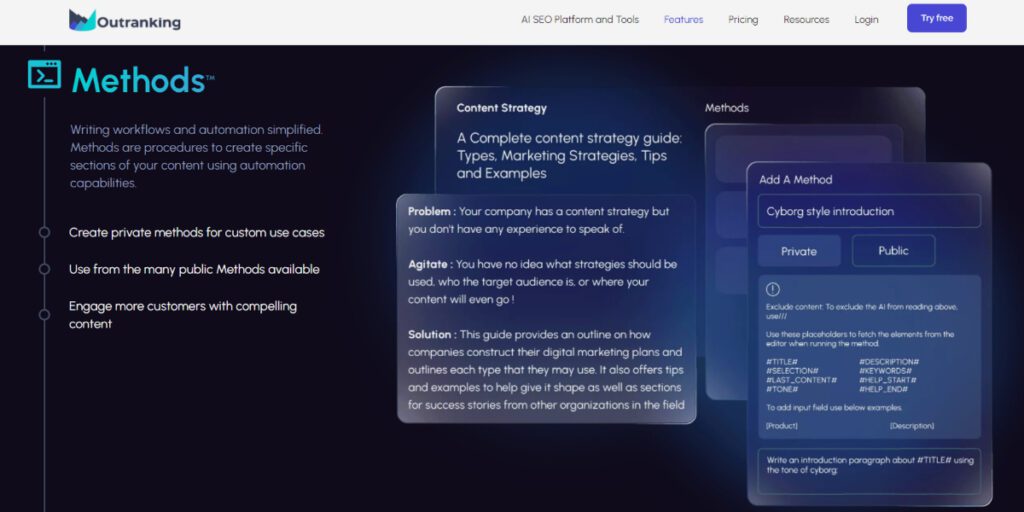 Outranking AI Methods
The Outranking.io AI Methods is a set of workflow templates that helps you automate the sections of your content writing. For example, if you are short of ideas for writing a good intro for your content, you can easily find an intro template from the Methods to use.
Generally, the Methods are like a preconfigured AI that will write compelling and engaging content for you with user intent in mind. You can either use the public Methods or create your own Methods template.
With Outranking Methods, you can write content such as;
AIDA – Attention Interest Desire Action,
PAS – Pain, Agitate, Solution,
BAB – Before-After-Bridge,
Intro and conclusion,
Sentence Improver,
YouTube Transcripts to paragraph,
F2B – Features to Benefits,
Emails for email marketing,
Translate to Spanish, and much more.
Some other excellent features of the Method tool is that it allows you to change the content output tones, set the expected audience, and much more.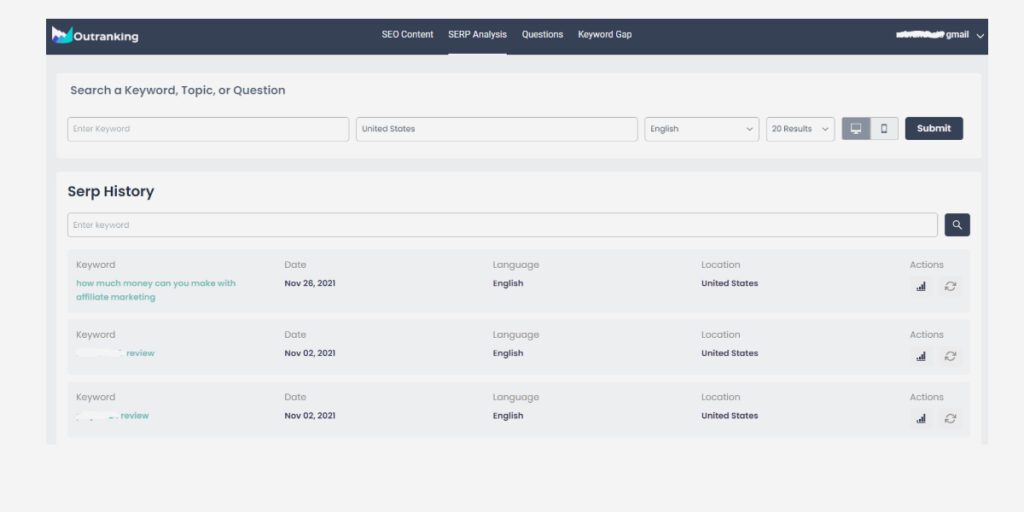 Outranking AI SERP Analysis
The Outranking AI analysis gives you the ability to analyse your competing content based on different factors and provides you with detailed information to create better content that will outrank the current content in your niche.
The Outranking SERP Analysis includes the following;
Find detailed information of the keywords competition, volume, relevancy and SERP mentions.
With the Outranking SERP Analysis, you will get the most helpful on-page SEO factors, such as the on-page statistics, the keywords highest frequency words, headings, word counts, readability, and much more.
It provides you with off-page statistics such as the top 20 competing websites, domain authority information, backlink data, and much more.
The tool allows you to use Google's NLP.
It gathers the keyword questions from the competing website, and Google's People Also Ask (PAA).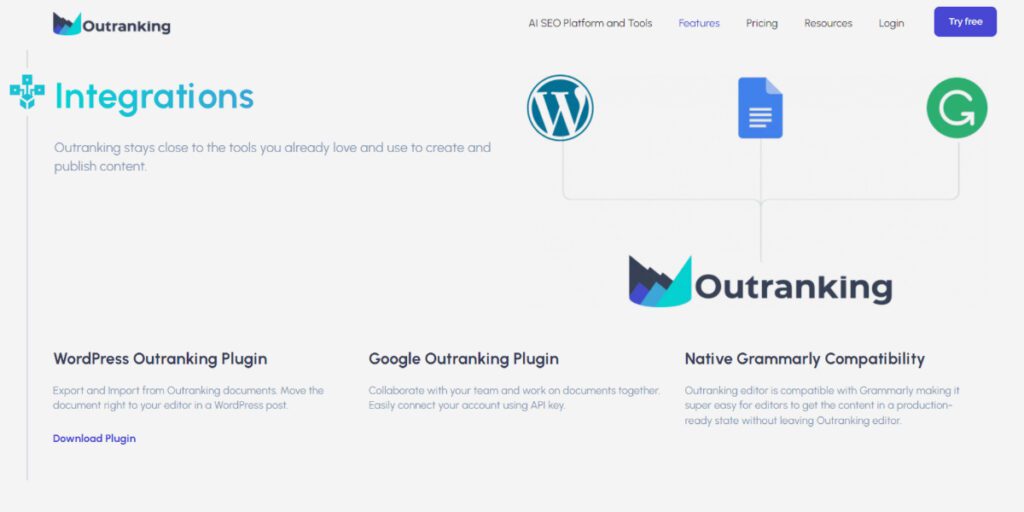 Outranking AI Integration
Outranking AI integrates with top tools such as Grammarly, WordPress, and Google Docs.
Team Collaboration
Another feature of Outranking-AI is that it allows you to share documents with your team using the platform, enabling you to work efficiently and perform required tasks faster.
What is Outranking AI Content Brief?
The AI content brief allows you to see what you need in other to create excellent and engaging content. The Outranking AI content brief is a feature that shows you the content's purpose and every other piece of information relevant to the content you are writing. The content brief involves the following;
Relevant keyword
Word count
Target Audience persona
Brand's voice and tone
Headings
Questions
Subheadings
How to Use Outranking.io AI Platform
Outranking.io is an easy to use platform with everything perfectly explained and has a self-explanatory User-friendly interface.
There are four sections at the top of the platform when you log in:
SEO Content,
SERP Analysis,
Questions,
Keyword Gap.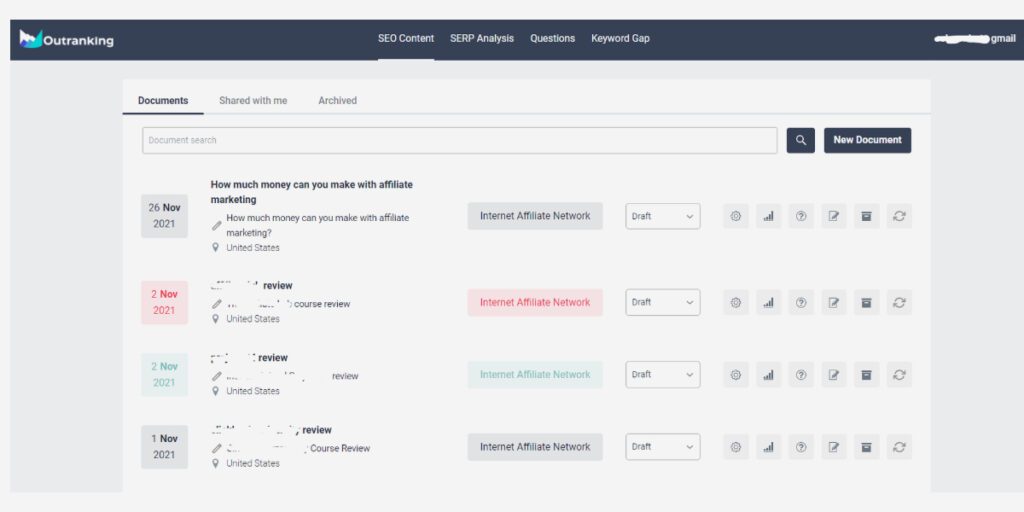 SEO Content
Outranking's SEO content tab is where you will begin your writing. This section has four subtabs, document, shared with me, archived and a new document tab. The section is quite self-explanatory.
The document tab is the set of documents that you have created.
The shared with me tab is the set of documents that are currently shared with you.
The archive tab is the documents that you have deleted.
And finally, the new document tab is where you will start when you want to create new content to write and optimise.
To create a new document, you will start by clicking on the "new document" tab. Then enter the focus keyword that you want to target with your content. If you need keyword ideas, you will need to click on the Ideas link and enter the broad keyword to find related ideas and their search volumes.
After you have decided to pick a keyword to write about, you will have to click create content to get started. It will take a few seconds to fetch the data from SERP research by analysing the first 20 rankings.
The SEO content is where you will find the content editor. It's simply where most of all the magic happens, from AI writing assistant to optimisation and much more.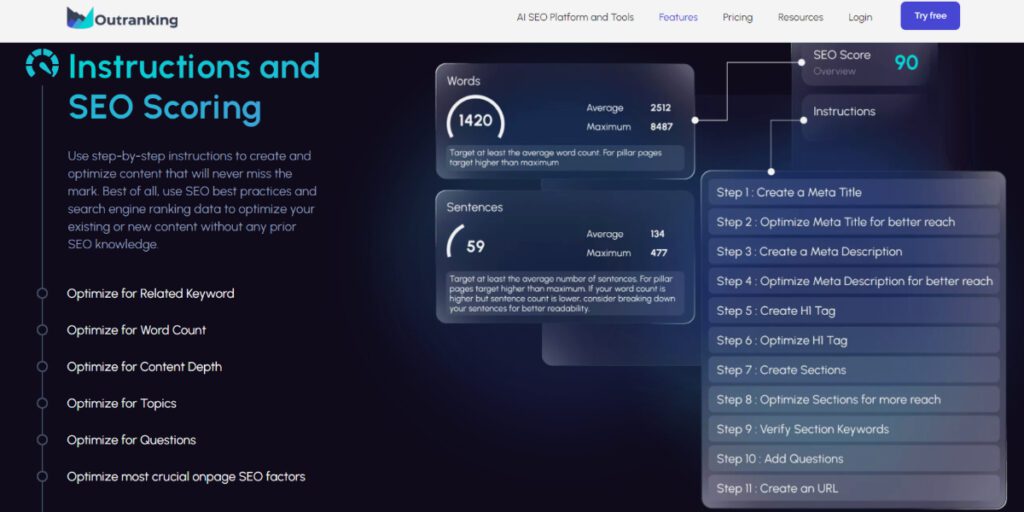 Realtime SEO Scoring
While you are trying to decide how well your content is optimised, Outranking shows you your score based on your written content. It shows how well you have used keywords, meta tags, outlines, readability, content depth, and other SEO elements.
SERP Analysis.
For people that love data analysis, then this part of the Outranking AI feature will be significant for you. This part shows all the elements of the keyword you want to rank for. Once you put your keyword into the search bar, you will see the country where you want your content to rank.
The SERP analysis will allow you to see the content length, backlinks, and competitor score that has also ranked for the keyword you want.
There are five other tabs under the SERP analysis feature, SERP Overview, Metadata and URL, H Tags, Keyword Data, Questions, and Other Tags.
For the Metadata and URL, you get the detailed metadata description and URL of all the results you need. Furthermore, Outranking will break down the present keywords and adequately show the Tags for easy comprehension.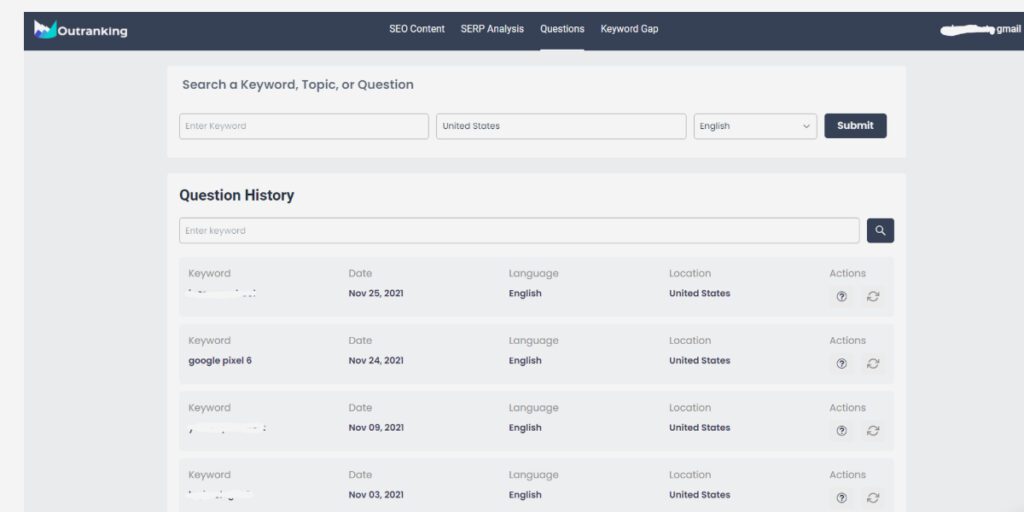 Outranking AI – Questions
Outranking questions can generate questions that are frequently asked online regarding the topic you're planning to rank for. All you need to do here is enter your keyword, enter the location of your target keyword and then click enter.
As a general rule, the Outranking AI questions can be used in carrying out independent research for the content you want to write. With the questions tool, you will see answers to the popularly asked questions on the search engines. These are the People Also Asked (PAA) questions, which you can then tailor-made within your content to answer questions showing up on Google searches.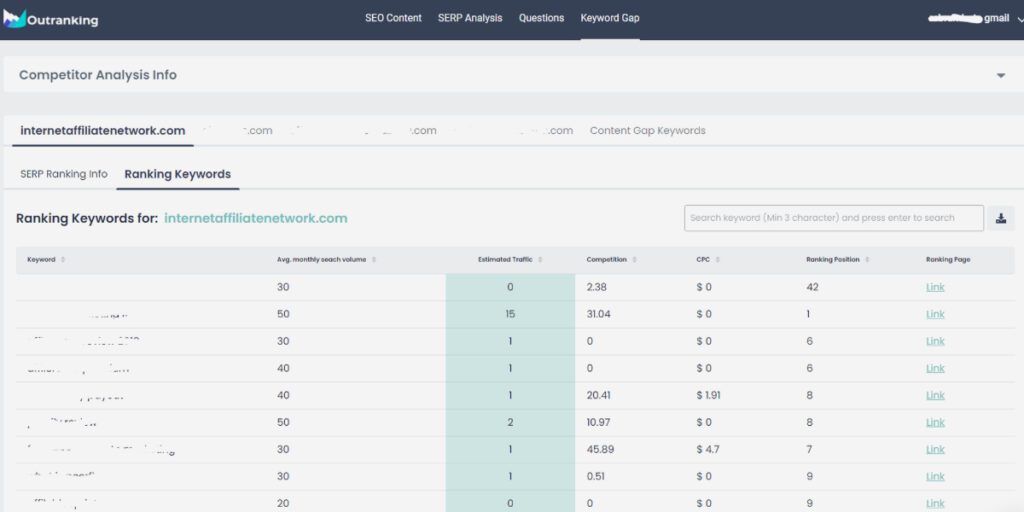 Keyword Gap
This allows you to compare your domain with that of your competition. With this feature, you will enter the keyword you want to rank for, enter the specific location, and enter your competitors' websites.
For example, the Outranking keyword gap tool uses crawlers to search through your website and the competition to distinguish between missing keywords on either of the websites.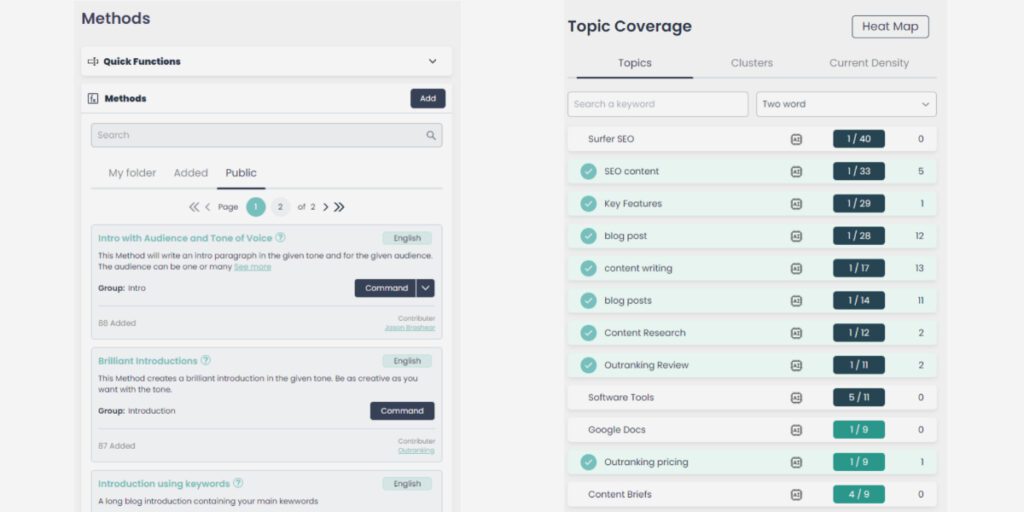 Pros
Outranking AI wizard helps you in conquering writer's block,
Both beginners and experts will benefit from this tool,
The platform's dashboard is easy to grasp,
It has GPT-3 feature, which is a cutting-edge AI-powered writing assistant,
The prices are one of the most cost-effective prices in the industry,
Step-by-step guide for creating an article that is highly optimised,
It provides you with a combination of an AI writing tool and an AI content optimisation tool.
Cons
With the plethora of features available, it can be pretty overwhelming.
The platform is relatively new, and there are chances of dealing with bugs.
The free trial has limited AI characters, which means you can get to your limit when you generate the title and description.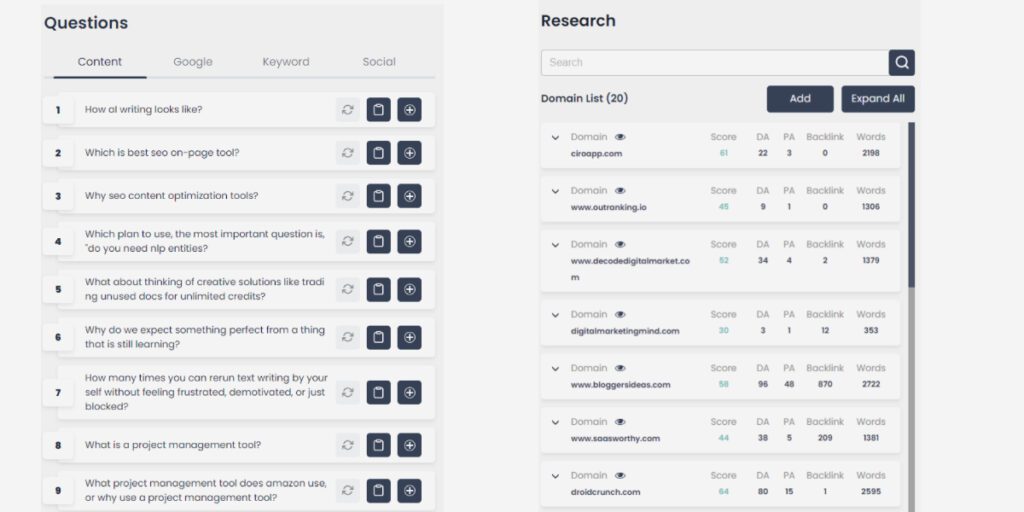 Is Outranking AI Tool worth it?
Outranking AI is a good tool for content writers that want to speed up their writing process and get meaningful results with their content search engine rankings. It is simple to use, and its simplicity in generating quality SEO content on SERPs is impressive.
This tool is currently the most affordable advanced content writing and optimisation tool with the level of features it provides.
Is Outranking AI free?
Outranking.io does not provide a free account, but they do offer a "Try Free" access to their platform, which you can signup for to have a hands-on of how their platform works.
Outranking AI Pricing
Outranking.io has three options of plans for you to choose from: Starters, Growth and Professional. Each option has different features.
| | | |
| --- | --- | --- |
| STARTERS | GROWTH | PROFESSIONAL |
| $39/ Month | $79/ Month | $159/ Month |
| 1 user | 1 User | 3 Users |
| Unlimited AI Characters | Unlimited AI Characters | Unlimited AI Characters |
| 10 SEO Web documents | 30 SEO Web Documents | 100 SEO Web Documents |
Does Outranking AI use NLP analysis?
Outranking AI uses NLP in analysing content. The essence of NLP is to ensure that Google's AI understands what your content is all about and identify the entity included in the content, the sentiment, and the appropriate category for the content.
Does Outranking AI integration work with Google Docs?
Outranking AI has an integration add-on that works with Google docs which you can get from Google's workspace marketplace. The add-on makes it easy for writers to collaborate with their team and work on documents without going back and forth.
Alternatives to Outranking AI
There are many AI content tools currently in the market, although some are AI writing tools while some are content optimisation tools. A good example is Jarvis AI and Surfer SEO.
Jarvis AI is mainly a content writing tool, while Surfer SEO is a content optimisation tool. However, both Jarvis AI and Surfer SEO integrate to provide the exact solutions that Outranking AI delivers.
Technically, I would not say Jarvis AI is an alternative to Outranking AI on its own, but when you use it with Surfer SEO, you will get a good result for both tools. The only thing to consider if you decide to use this method is the cost of both platforms. Considering the cost of both, I believe you're better off going for Outranking AI tool.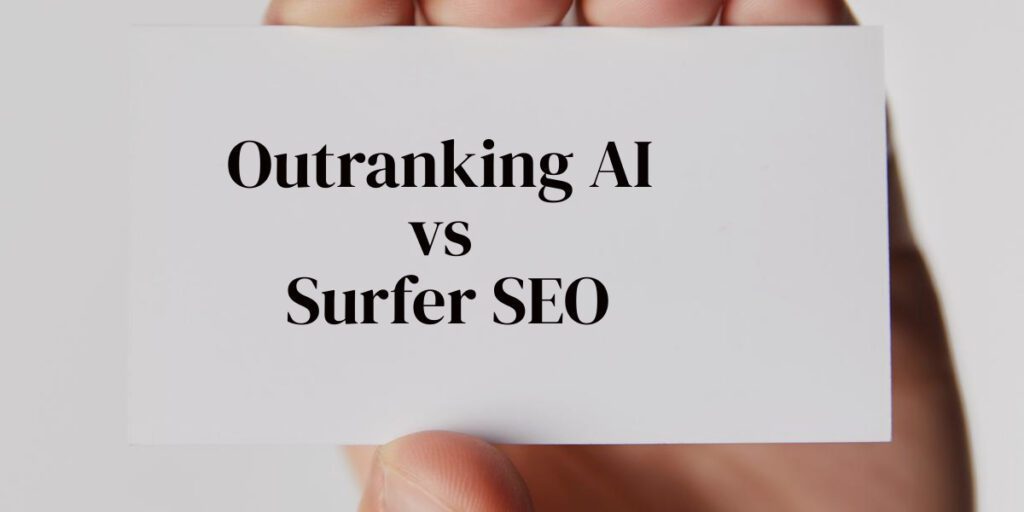 Outranking AI vs Surfer SEO
Outranking AI and Surfer SEO AI tools have similar abilities; they have great features that will help you produce highly optimised content that is good enough to rank on search engines. I can't authoritatively say that Outranking AI is better than Surfer SEO because Surfer SEO has its own area of strengths.
However, Surfer SEO does not have the advanced AI writing feature Outranking has; plus, the data on Surfer SEO can be off occasionally.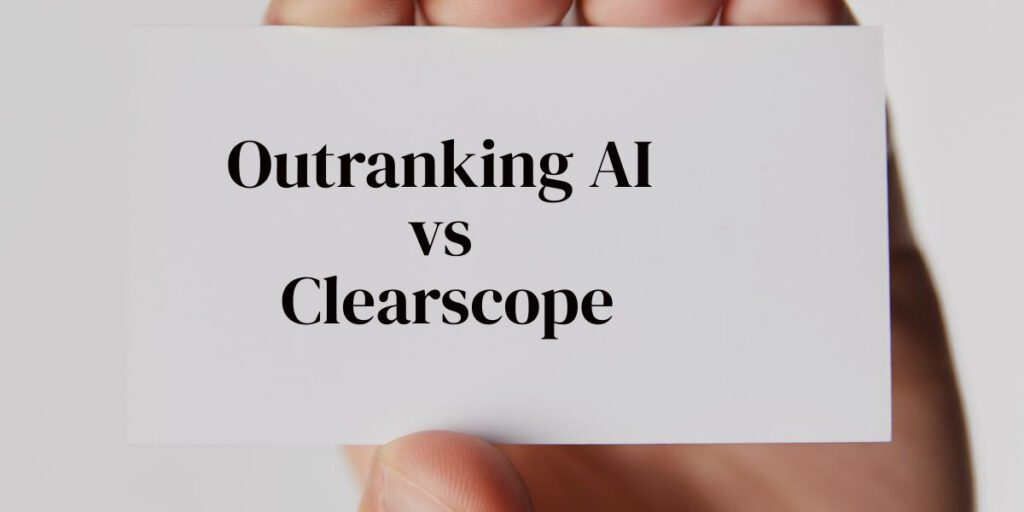 Outranking AI vs Clearscope
Outranking and Clearscope are popular AI content optimisation tools that many copywriters use today. However, there are some distinctions in their abilities. First off, Clearscope is more expensive than Outranking and has limited features than Outranking.
Clearscope is much easier to use; the User interface and experience make it simple to use. Clearscope's basic plan price is $179 per month, while Outranking AI's starter plan price is $39.
However, Outranking has the edge over Clearscope with its extra features, such as its AI writing wizard, integrations and much more.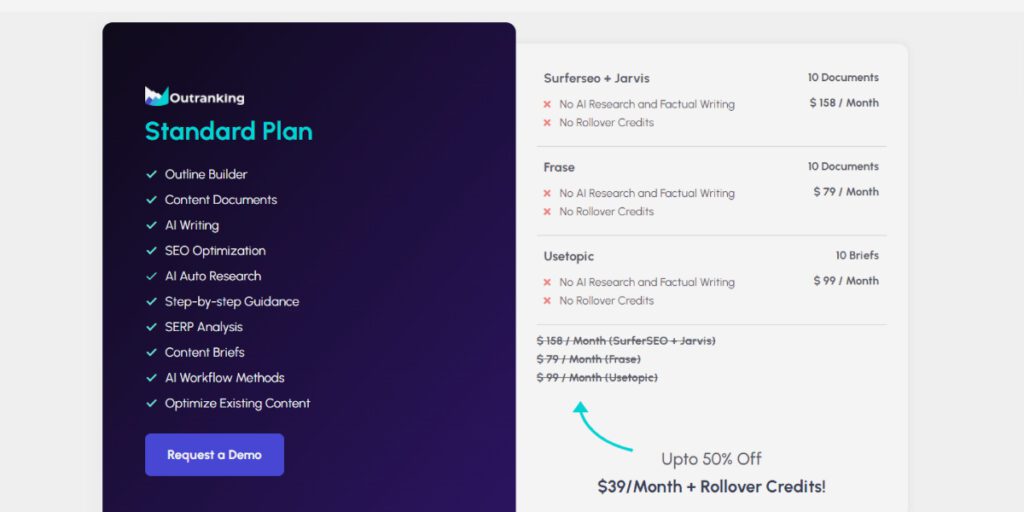 Conclusion
Although Outranking is relatively new in the industry compared to other SEO content optimisation and writing tools, the tool has many unique features. However, I do not doubt that it can easily unseat the best tools in the industry if it continues with the current creative approach.
I hope you found this Outranking AI content writing optimisation tool review helpful.
In the meantime, while success awaits you, I wish you all the best of luck.