Imagine having to spend so much time on content research, drafting your posts, and putting them together perfectly, and only to find out that the article is invisible to search engines.
That's every content creator's nightmare brought to life. Therefore, it's no surprise that AI SEO content optimisation tools are getting popular by the day.
From helping you find the right keywords for ranking without resorting to keyword stuffing to creating a detailed content outline, there's so much these SEO tools can accomplish.
Still, it could get pretty confusing picking the right AI SEO content optimisation tool to help your brand stand out. And that's what this review will help you avoid.
I have put together six of the best AI SEO content optimisation tools with their pros and cons to help you pick the perfect one for effective content creation.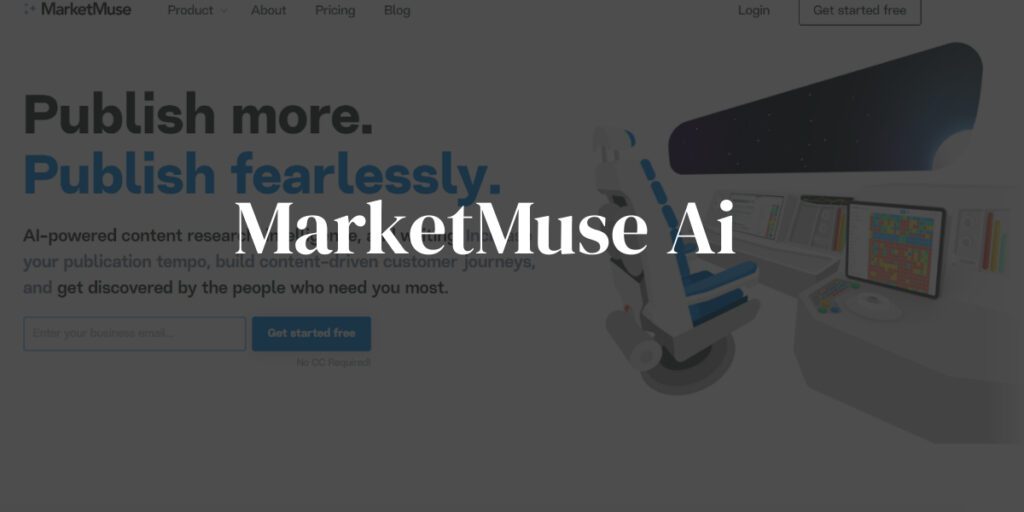 MarketMuse AI SEO Content Optimization Tool
MarketMuse SEO tool is an AI-powered content optimisation tool that enables you to speed up your content research, creation, and optimisation process using AI to achieve good results with your search engine ranking.
This AI SEO content optimisation tool helps you plan your content effectively without going through multiple stressful processes.
MarketMuse optimises your written content for better visibility on search engines. This SEO tool is an ideal content analysis tool to have if content marketing is a significant aspect of your business strategy.
MarketMuse has five main applications as an SEO software platform, and the apps are;
Research,
Compete,
Optimise,
Questions,
Connect.
Features
Content insights – search engine ranking opportunities,
Detailed competitor analysis – topic coverage and keyword gaps opportunities,
Content optimisation for better ranking,
Detailed data visualisation for metrics clarity in making informed decisions,
Link suggestions – help in suggesting the most relevant links for your content to get the best SEO link opportunities,
In-depth keyword research – the in-built keyword research tool provides you with keyword opportunities for better rankings of your target keyword. This also includes keyword gaps opportunities and possible clusters within your keyword.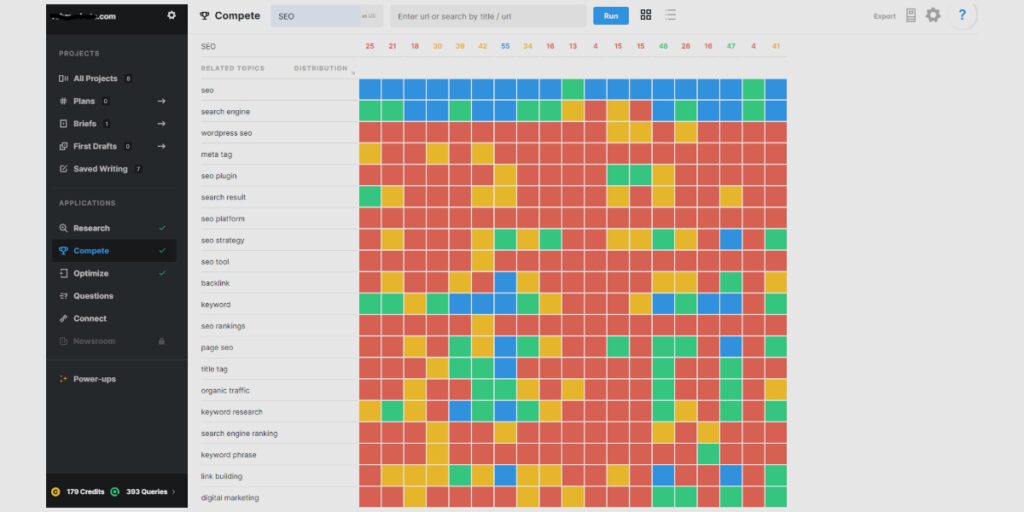 Pros
They offer a free account for anyone that wants a free SEO tool for content optimisation. This is quite encouraging for anyone looking to improve their SEO strategy with content optimisation software.
You don't have to spend much time searching for suitable topics, competitors, content opportunities, or performing keyword research. MarketMuse is designed to make this so easy with its artificial intelligence.
You can easily optimise your content to rank high on several search engines, especially Google, using the suggested keywords. It is effective in helping your content stand out on the busy internet using actionable steps that make them as relevant as possible. The Optimise and Compete feature is excellent for this.
Perform a content audit in minutes with the Optimize function. Just place the URL, and you can see all the loopholes in your content strategy.
This AI-powered content optimisation tool can create content briefs with details on topics, internal links, and keywords without any hassle.
Cons
It could be a bit overwhelming to understand the interface at first. The first thing that would come to your mind as soon as you view the MarketMuse dashboard won't be, "oh, that looks easy." However, while there is no description of what each feature does, you can check out their free tutorials to get a good idea.
MarketMuse is quite expensive for newbie content creators.
There are no available data on backlink and domain authority for search results. This is usually a common feature in other SEO content optimisation tools.
How much does MarketMuse AI Cost?
MarketMuse starts at $0 per month for their free account, $149 per month for their standard account, and $999 per month for their premium account.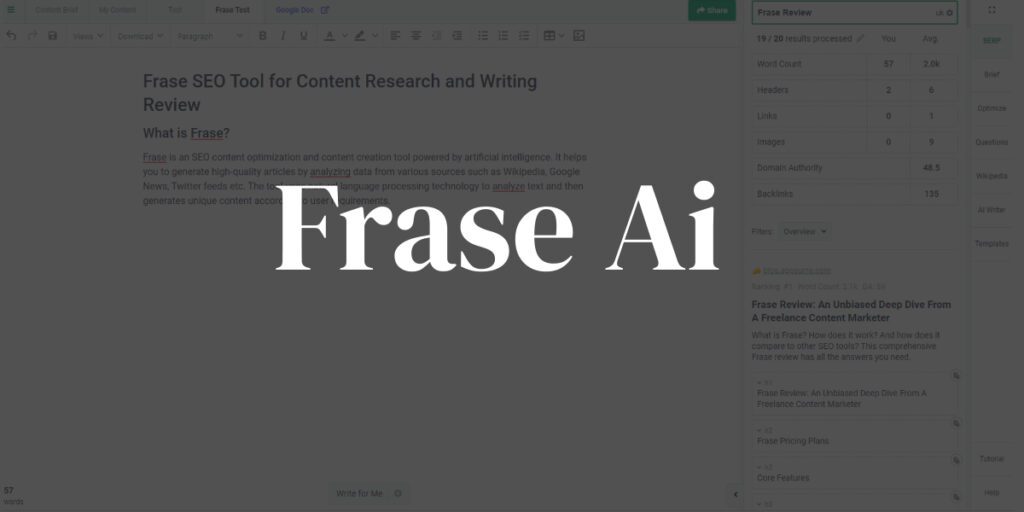 Frase AI SEO Content Optimization Tool
Frase AI is a content optimisation tool and an AI writing assistant tool. On the optimisation side, the tool analyses the texts in your content and provides you with the best keyword suggestion that will likely help you rank your content on search engines.
And on the AI writing assistant, Frase AI can write an entire blog post. Although, I'll always encourage you to do a fact-check on any AI-generated content.
Frase AI is a fantastic search engine optimisation tool that can reduce your content creation time by more than half.
Frase is designed to make your writing life easier, especially as you can also update existing content.
When you launch the app, you'll be amazed by all its features in store for your content marketing strategy.
With tons of features to optimise content, Frase AI is undoubtedly a good website optimisation tool for content writers or any content marketer with SEO in mind.
Features
Content brief – this is a content outline builder; it will help you get started with your topic sections. A good starting point to get you writing.
Content analytics – you can analyse your content for any possible gaps or opportunities to get you ranking higher on search engines,
AI content writer – this is an intelligent writing assistant that can write an entire quality article for you,
Frase answers – this is an intelligent chatbot that will engage with your website audience based on the content on your website. Basically, it engages with your website audience based on the datasets you provide.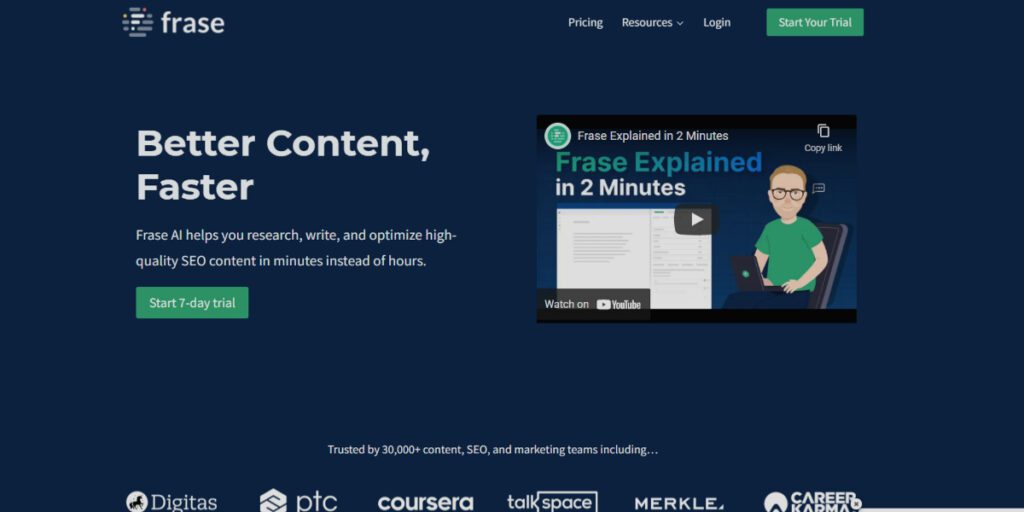 Pros
Instead of spending so much time researching the types of questions your target audience will need answers to, there is a handy feature that makes this tedious task much easier. The Question Research tool crawls the internet for your topic and automatically generates a list of questions you can answer to make your article or blog post more relevant.
No need to stress creating content briefs as Frase can provide an AI-Generated content brief for you. This comprehensive content brief includes keywords, relevant headings, and proper subheadings to include.
It's easier to analyse competitors with the data provided on the platform.
Frase can create an intelligent knowledge base through its Answer Engine. A dedicated AI assistant will deliver the answers through the chatbot 24/7. You can then follow this up with a relevant blog post that drives more targeted traffic to your website.
It can help you Optimise your content for topic coverage and better search engine ranking for your article's.
The content generation tool is quite detailed as it assists a lot with the research process and comes at an affordable monthly plan.
It integrates with Google docs, WordPress, HubSpot CRM. It also integrates with Google Analytics and Google search console in other to get detailed data about your website traffic, backlinks, related keyword and much more.
Cons
No free trial. you will have to signup for a paid account to test Frase AI.
The answer engine is limited to 500 answers, which is barely enough for websites with thousands of monthly visitors.
To access keyword data on Frase, you would have to spend an additional $35 monthly, as it is not included in any of its plans.
How much does Frase AI Cost?
Frase AI starts at $44.99 per month for the basic account and $114.99 per month for the team account.
Surfer AI SEO Content Optimization Tool
Surfer SEO content optimisation tool is one of the industry-leading SEO AI content optimisation tools online. It has a built-in keyword research tool that helps you with your keyword research. As a content writer using Surfer SEO, you can be assured that your content is well-optimised. The tool analyses your written contents using its "500+ on-page" signals.
Surfer SEO helps you in creating top-notch blog posts that can easily rank on Google effectively.
Right on the dashboard, you have access to information on the ideal word count for your article, the content score, the number of headings and paragraphs to include, and how many LSI keywords to incorporate into your writing.
Sure, it can take a while to get used to Surfer SEO as a beginner, but its comprehensive technical SEO analysis is perfect for any article writer or content creator looking to save time.
Features
Content editor – Surfer's SEO content editor uses AI technology to analyse your competitor's content for word prominence. This analysis will help you create high-quality, well-written content that will show up higher in search engine rankings.
Content planner – this helps you in your content strategy process. Surfer SEO's content paneer can help you to generate highly relevant topics and keywords in a matter of minutes.
SERP analyser – Surfer's SEO SERP Analyser enables you to identify common patterns from top-ranking pages, such as the number of headings used and the text length. It then provides you with detailed suggestions to improve your written content by analysing 500+ reliable ranking factors.
SEO audit – discover the gaps and opportunities in your content before you start writing or publishing.
Keyword research tool – Surfer SEO has an in-built keyword research tool that enables you to conduct adequate keyword research for your content.
Chrome extension – Surfer SEO chrome extension is a big plus for your keyword research.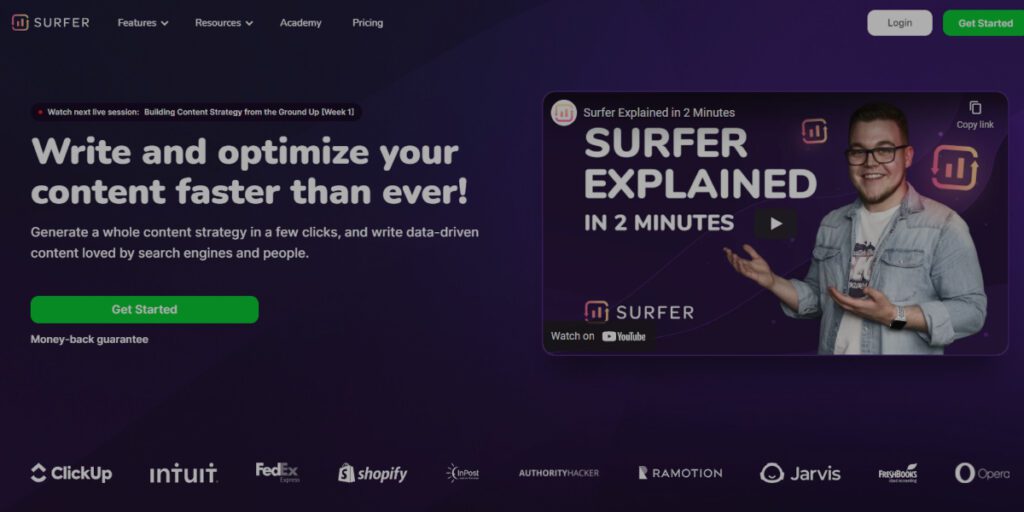 Pros
You don't have to manually review SERP results when you have Surfer SEO at your fingertips. It comes with a SERP analyser tool that uses more than 500 ranking factors, including meta tags, keyword density, word count, and the number of headings used. While it may seem overwhelming, a simple chart will help you find out immediately the words to use to be on par with top SERP positions.
The LSI keyword analysis gives a detailed overview of how to make your existing article better with keywords and relevant topics.
A flexible pricing plan means that you can start with as little as $59 monthly.
It has easy integration with Google Docs and WordPress, and also, Google Chrome extension.
Cons
In the basic plan, NLP queries are limited to one month of use. However, it's included in the higher plans.
It's not a very excellent keyword research tool when compared with SEO keyword tools like Semrush.
It has so many details to work with, which could be overwhelming for beginners. You would need more than a surface-level knowledge of SEO.
It has no free trial for hands-on experience.
How much does the Surfer AI SEO tool Cost?
Surfer SEO starts at $59 per month for the basic account, $119 per month for the Pro account, and $239 per month for the business account.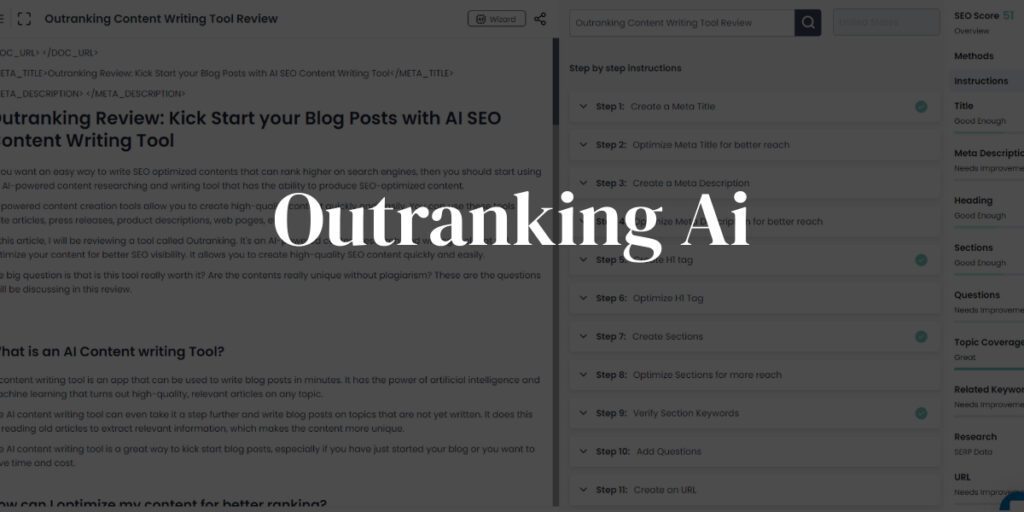 Outranking AI SEO Content Optimization Tool
Outranking AI is an AI content writing tool that can help improve the ranking and quality of your written content.
The tool crawls the top-ranking pages and then analyses your current blog post against it. It then provides you with keywords or phrases that you need to include in your article. This analysis will give you a list of words that correlate with higher ranks on SERPs.
Outranking AI is my favourite SEO tool. The tool combines AI writing assistants and content optimisation tools.
This tool is great for planning new content, especially when it's needlessly difficult to develop something great for your target audience.
This tool is great for creating content outlines that you can edit to your taste and incorporate specific keywords to stay ahead of your competitors.
Features
AI writing assistant – The Ai writer can be beneficial in writing your entire blog post.
Concepts builder – The concepts builder crawls and collect facts from ranking pages and write out your content based on those facts.
SERP Analysis – Outranking AI SERP analysis analyse competing web pages and provide you with suggestion on how to outrank your competitors.
Methods – This is used as a writing workflow that will enhance and simplify your writing. It helps with the ability to write AI-generated engaging content.
Integrations – Outranking integrates with Google Docs, WordPress, and Grammarly.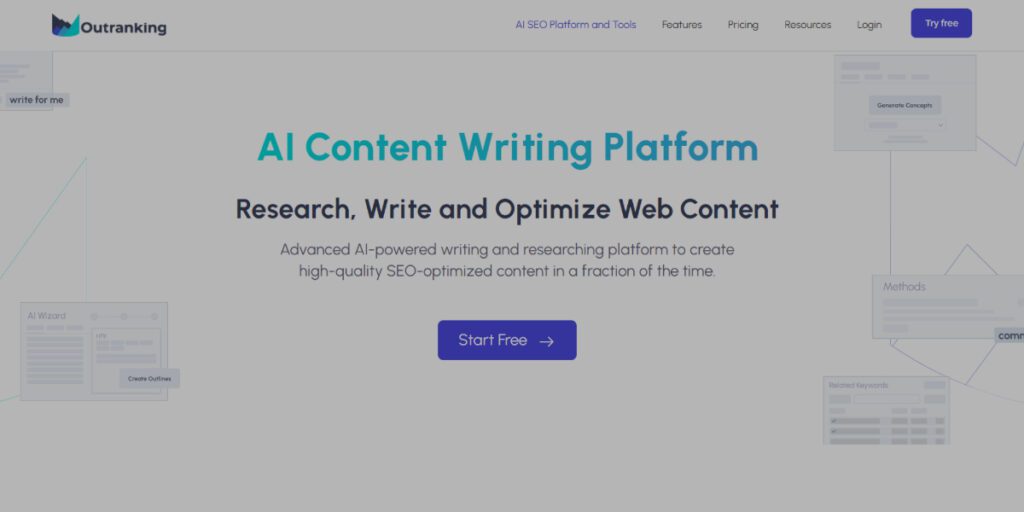 Pros
Outranking integrates easily with other third-party applications like WordPress, Google Docs, and Grammarly, which are necessary to create and publish quality content.
Anyone hit with a sudden bout of writer's block or just confused about where to begin their content creation can take advantage of the AI in Outranking for article writing.
It uses several on-page SEO ranking factors to help your content rank higher.
Its GPT-3 engine uses quality SERP statistics to write new content, rewrite existing ones, answer questions and create featured snippets ready texts. It also produces SEO-optimized titles, meta descriptions, and summaries.
Get instant access to frequently asked questions on any topic and respond to them to make Google fall in love with your content more. Outranking generates SERP-related questions for you to answer for more topical relevance for your website.
It gives precise results and engaging content with minimal effort.
Cons
You would need a lot of patience to learn how to use this tool effectively.
The tool is relatively new when compared to tools like Surfer SEO.
How much does the Outranking AI SEO tool Cost?
Outranking AI starts at $39 per month for the starter plan, $79 per month for the growth plan, and $159 per month for the professional plan.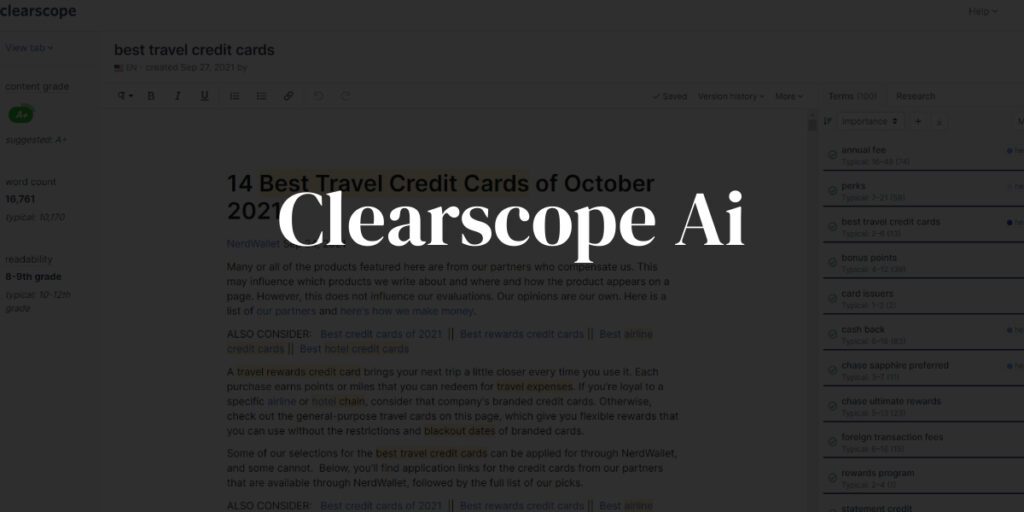 Clearscope AI SEO Content Optimization Tool
Clearscope is a premium SEO content optimisation tool that can help you optimise your content for better visibility on search engines. The tool helps analyse what text would best fit your content to get a good ranking on search engine results. The tool takes your content and recommends keyword phrases to use for maximum exposure and search engine ranking.
Clearscope also analyses the content and provides valuable information on how to convey your message to your audience in the best possible way, improving your writing skills. The tool has a quality SEO content optimization feature that grades your content and highlights how you can make it better.
Features
Optimises content for SEO.
Keyword research.
Relevant terms – Clearscope provides you with suggested relevant words that you can add to your blog post to improve your content SEO better.
Intuitive UI – It has a clean user interface and straightforward platform that is user-friendly.
Competitors analysis – This shows you how your competition stack up, including their content readability, type of content, language used, and their current ranking on both mobile and desktop.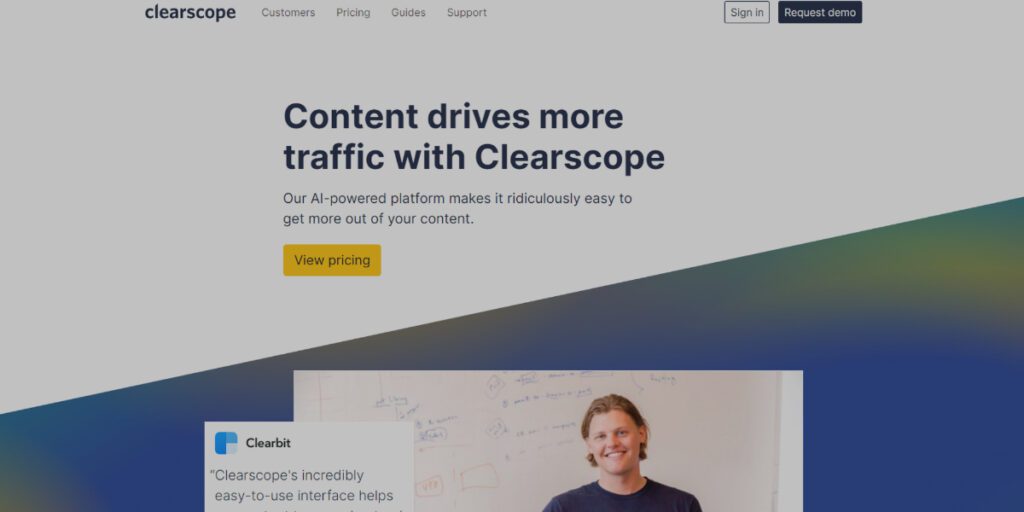 Pros
It offers an easy and user-friendly interface that helps content writers navigate the tool easily without getting overwhelmed with the details.
Generates more than 50 key terms from a single primary keyword, which effectively ranks on search engines.
The key phrase research tool is quite accurate as it comes up with detailed SEO-backed content ideas.
Clearscope offers a fully customised report on already-written content to show you areas where you can improve on it and increase your chances of ranking higher on Google.
This AI, content optimization tool integrates seamlessly with Google Docs and WordPress.
Easily view how your content ranks against top competitors in your industry with your very own content score.
Cons
Clearscope does not integrate with Grammarly. You would have to copy content manually into other content writing tools.
The minimum pricing plan is Essential at $170 per month, which could be pretty expensive for a newbie content writer.
How much does the Clearscope SEO tool Cost?
Clearscope starts at $170 per month for the essentials plan and $350 per month for the professional plan.
Page Optimizer Pro SEO Content Optimization Tool
Page Optimizer Pro is a content optimization tool that helps content writers, copywriters, and SEO experts optimise their content for better visibility and the chance to rank on search engines. This tool used to be one of the best in the industry, but now tools like Surfer SEO, Outranking AI, Clearscope, and Frase AI have taken the spot.
There is no doubt that Page Optimizer Pro is still a good SEO content optimization tool for those on a small budget. With its starting price at $20, you can't go wrong with it. Also, it has some unique features to its name but not enough to compete with the big names in the industry like Surfer SEO.
Features
Keyword research and optimisation for proper SEO ranking.
Alternative recommendations for specific web pages with limited word count.
Site structure recommendations for the best layout.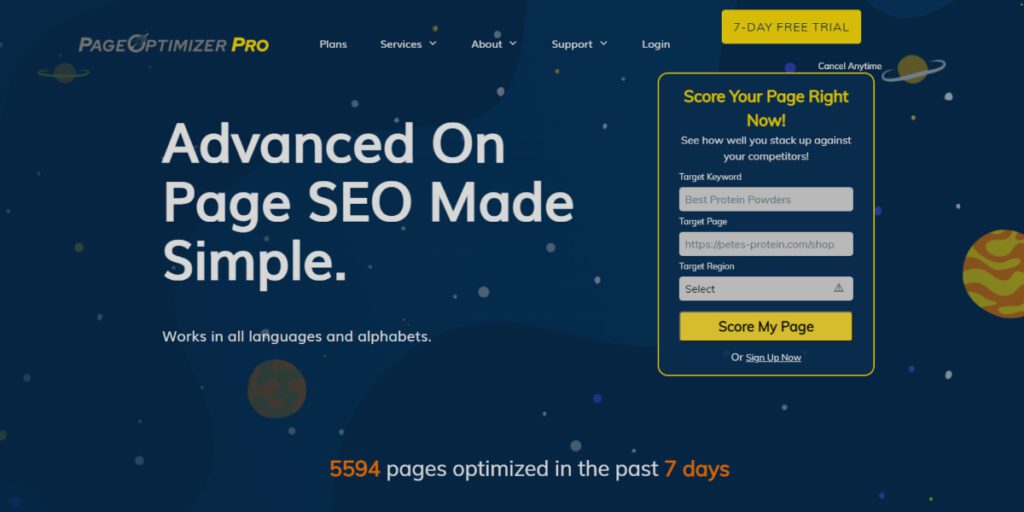 Pros
It comes with a robust content editor to help you create optimised content for your page using expert recommendations.
You have the chance to test its features using its 7-days free trial. During this time, you can make an informed decision on how useful this tool is to you.
Plans start at $20 per month, which gives you access to 12 reports for the month. Their prices are one of the cheapest in the industry.
It has a Chrome extension that helps you work seamlessly.
Cons
It doesn't have any section for frequently asked questions which will help you find out what your target audience wants to know and create tailored posts to answer them effectively. Since several other AI content optimization tools have this feature, it's a big drawback for Page Optimizer Pro, in my opinion.
How much does the Page Optimizer Pro Cost?
Page Optimizer Pro starts at $20 per month for their basic plan, $30 per month for their premium plan, and $39 per month for their unlimited plan.
Conclusion
Every content writer aims to create high-quality content visible to search engines and drives traffic to their website. And AI content optimisation tools have been designed to help you achieve such an aim.
However, please remember that no SEO tool can guarantee that your content will rank on Google and no such tool to protect your content from Google updates.
The good news is that, with any of these SEO content optimisation tools, your chances of ranking your content on Google's first page is higher than an average writer. These tools will undoubtedly give you a competitive advantage over your competitor in your niche.
I hope you found these 6 Best AI content optimisation tools review helpful in picking the right AI SEO content optimisation tool that will take your content writing strategy to the next level.