WEALTHY AFFILIATE FREE TRIAL
Wealthy Affiliate (also referred to as Wealthy Affiliate University or WA program) is one of the most popular online marketing courses on the internet these days, with lots of promises to teach you how to make money online through the use of a marketing strategy called affiliate marketing.
Sounds interesting, but the main question here is this; does Wealthy Affiliate really work?
In this article, I will be discussing what Wealthy Affiliate is all about, and my personal opinion using their program since 2016, why I believe it is overhyped, and why I believe it's not the best course for learning affiliate marketing for anyone with some level of online/affiliate marketing knowledge.
Having said that, I will admit that their course is a good option for a complete beginner with a limited budget.
What is Wealthy Affiliate?
Wealthy Affiliate is an online marketing training platform for aspiring affiliate marketers. They offer comprehensive online marketing courses that are more beneficial to people that are just getting started in learning how to make money online through the use of affiliate marketing.
Their training program is ideal for someone that is completely new to how affiliate marketing works, but I would not recommend it to anyone that already understands the basics and needs quick results.
However, one advantage that Wealthy Affiliate has over other alternatives to their course is the extras they offer in their premium package (free keyword tool and website hosting of up to 10 websites and much more).
With these extras, their platform is surely a no-brainer when you want real value for money or you are limited in budget.
Is Wealthy Affiliate Legit?
Wealthy Affiliate is a legitimate online marketing training course for aspiring online marketers. They've been around for over many years now with lots of positive customer feedback online and also some negative feedback.
However, there are lots of good and bad reviews about Wealthy Affiliate on the internet that do not tell the true story about them. Some are just trying to promote the platform and get some affiliate commissions, while some are trying to discredit them in order to promote their alternatives and get paid commission.
My Opinion about Wealthy Affiliate as a Member
Wealthy Affiliate is definitely not the best online marketing course if you want to see quicker results. Nevertheless, their courses are not as bad as some of the reviews on the internet portray them to be. I've been their member since 2016, and all I can say is that their platform is surely a value for money in terms of the extras you will get as a member.
One question I often get asked is this; why are you still a member if you don't recommend their platform to intermediate or experienced online marketers?
Basically, for a fraction of what I am paying for Wealthy Affiliate's package yearly, the free tools included is a no brainer for me. Currently, I can host up to 25 free websites with free SSL, free backups, reliable uptime, free keyword tools, and much more. It's all about value for money.
However, I am not saying the reasons mentioned above are enough reasons for you to join their platform; far from that. To me, it's just a preference.
One piece of advice I can give you is this; join their free Starter account and try the platform for as much as you want to, and then make your own informed decision.
Their free Starter account provides you access to some of their video training and resources that will teach you some of the foundational learning of online marketing. With their free Starter account, you will be able to decide from there.
Conclusion
Making money online blogging is not as easy as you read on the internet (there are lots of lies and untold true stories).
However, it is definitely possible for you to make money as a blogger; you just have to be prepared to do the necessary hard work.
There is no doubt that you can start earning a full-time income from your blog within 24 months; it's very much possible. The only obstacle is you.
One of the common failures many new bloggers face is that they give up so soon. Making money with a blog does take time.
My advice to you is this; if you really want to make money blogging;
First, be ready to work consistently for 24 months.
Secondly, be ready to write at least 100 articles within the first 12 months.
Let's do the maths; writing 10 articles a month will result in 120 articles after 12 months. I am 100% sure you can do it; you just need some level of motivation.
I hope you found this article helpful? If yes, I would love to read your comments. Please feel free to leave your comments in the comment section below.
Also, if you want to learn more about Wealthy Affiliate, please feel free to read my Wealthy Affiliate review here.
In the meantime, and while success awaits you, I wish you all the best.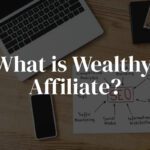 WEALTHY AFFILIATE
Verdict
Wealthy Affiliate is one of the most popular affiliate marketing training programs online for those aspiring to learn how to become a successful affiliate marketer. But being the most popular does not imply it's worth your time or money.
Pros
Its Free to get started – their FREE Starter Membership plan is $0
Well-detailed affiliate marketing basics
Responsive support system
24-hours live and interactive help system
Cons
Some of their affiliate marketers are misleading readers
The task on Wealthy Affiliate's platform can also be overwhelming
The FREE Starter Membership account is too basic
WEALTHY AFFILIATE FREE TRIAL